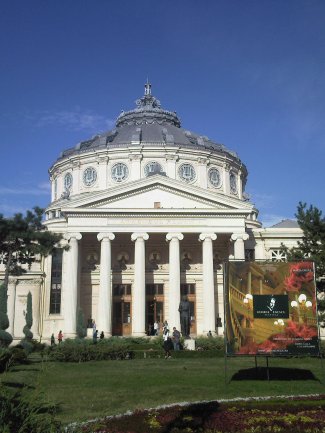 HARRISONPARROTT

ARTISTS

FEATURE

IN

GEORGE

ENESCU

FESTIVAL
15/7/2017
The George Enescu Festival, held in honour of the celebrated Romanian composer George Enescu, is the most prestigious classical music festival in Romania and one of the biggest in Eastern Europe. The Festival takes place from the 2 – 24 September.
From our piano roster, the first to make their appearance is Nikolai Lugansky on 4 September with the Russian National Orchestra, playing Prokofiev's Concerto No.3 for piano and orchestra. Next up is Alexey Volodin who performs in recital at the Athenaeum on 21 September, in a programme featuring the works of Enescu, Prokofiev, Mendelssohn, Medtner and Rachmaninov.
Two cellists also perform at the Festival. Gautier Capuçon performs in recital with pianist Frank Braley on 11 September. The programme comprises Enescu's Sonata No.1 for cello and piano, Debussy's Sonata for cello and piano, and Beethoven's Sonata No.5 for cello and piano. On 19 September, Truls Mørk plays Enescu's Symphonie Concertante for cello and orchestra with Orchestre National de France under Christoph Eschenbach. This concert will be live streamed from the Grand Palace Hall.
Vladimir Ashkenazy and Rumon Gamba are both conducting at the Festival. Ashkenazy conducts the Philharmonia Orchestra in Shostakovich's monumental Symphony No.10, on 14 September. On 21 and 23 September, Gamba conducts two concerts with Banatul Philharmonic Orchestra from Timișoara. The programme features Martinsson's Open Mind, Helbig's Pocket Symphonies and pianist Luiza Borac playing Gheorghiu's Concerto for piano and orchestra.
On 16 September, Christopher Warren-Green leads the London Chamber Orchestra for their concert in the Recitals and Chamber Music Series. The programme features works by Enescu, Tim Benjamin and Graham Fitkin, as well as Mozart's Serenade for Winds and Symphony No.41. This concert is managed by HarrisonParrott.
Two violinists from our roster are each performing in two concerts. The 2016 Laureate of the ​"George Enescu" International Contest, Erzhan Kulibaev, performs 21st century music on 17 September. He plays Buciu, Huillet, Munteanu and Cosma in ​'Room Camera' with violist Clara Cernat. On 18 September, Kulibaev performs solo violin works in Sibiu, the programme includes works by Medtner, Prokofiev and Schubert. On 23 September, Patricia Kopatchinskaja plays Ligeti's Violin Concerto with the Mahler Chamber Orchestra conducted by Jonathan Stockhammer. On 24 September, with members of the Mahler Chamber Orchestra, she both plays and directs a programme including Ligeti, Webern, Kurtág and Enescu.
Gallery