Barbara Hannigan awarded an honorary doctorate from Mount Allison University
2/6/2017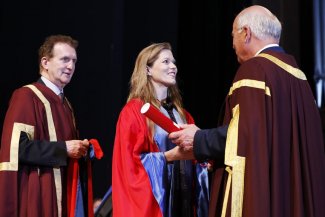 Barbara Hannigan has been awarded an Honorary Doctorate from Mount Allison University. The school felt it was fitting to honour a distinguished musician as it celebrates the 100th anniversary of its first bachelor of music degree.
After being awarded the Honorary Doctorate, Barbara addressed the graduates in a captivating speech. She explained that ​"what separates a very good performance from a great one is an unexpected change… often in the form of a mistake that ripples through the orchestra and alters the dynamic. We think we're on a particular path and suddenly the ground drops out from under us and we have no choice but to fly."
Mount Allison University has a long tradition of offering honorary degrees to individuals who are nationally or internationally recognised in their fields.
"Each year we choose honorary degree recipients who reflect Mount Allison's values and vision," university president and vice-chancellor Robert Campbell said. ​"This year's recipients come from very diverse fields and backgrounds, but collectively represent areas that are dear to Mount Allison: education and inclusion, mental health, and justice."