Pierre-Laurent Aimard:

2017

International Ernst von Siemens Music Prize winner
26/1/2017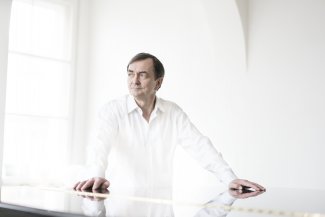 Pierre-Laurent Aimard has been awarded the 2017 International Ernst von Siemens Music Prize.
The prize, established in 1974, is awarded by the Ernest von Siemens Music Foundation to an outstanding musician who has given complete devotion and contribution to the world of music. It is often referred to as the ​'Nobel Prize of Music', being one of the most prestigious awards in classical music.
Previous recipients of the prize include Pierre Boulez, Olivier Messiaen, Karlheinz Stockhausen, György Kurtág and György Ligeti, all close companions of Aimard and with whom he frequently collaborated.
He will be presented with the Prize during an awards ceremony at the Prinzregententheater, Munich on 2 June 2017.
Aimard has also been announced as Artist in Residence at Southbank Centre from the 2017/18 season. Throughout the three-year residency he will appear in recital, chamber music and orchestral concerts.
During the first year of the residency, Aimard will collaborate with the Aurora, Philharmonia and Australian Chamber orchestras, demonstrating his incredible skill and interpretation of 20th and 21st century repertoire. He will also curate the weekend festival Ligeti in Wonderland (11 – 13 May 2018) – devoted to exploring the music of György Ligeti.