Oliver Knussen is presented with The Queen's Medal for Music and The Ivor Novello Classical Music Award
20/5/2016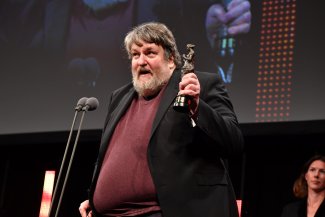 On 20 May Oliver Knussen CBE was presented with The Queen's Medal for Music 2015, in a private audience with The Queen.
The prize, established in 2005, is awarded to an outstanding individual or group of musicians who have had a major influence on the music life of the nation. The nominating process for the award is overseen by a committee under the chairmanship of the Master of the Queen's Music, currently Judith Weir; the Committee's recommendation is then submitted to The Queen for her approval. The committee members are The Lord Berkeley of Knighton, Susanna Eastburn, Gillian Moore, Richard Morrison, Professor Piers Hellawell and Sir Curtis Price.
Commenting on the award, Judith Weir said: ​"Greatly admired and much loved by his musical colleagues, Oliver Knussen is both a revelatory conductor and a masterly composer, whose work always persuades audiences to listen carefully. With characteristic generosity and warmth, he has supported the practice of music in numerous ways: as a musical director of leading festivals, orchestras and ensembles, including the Aldeburgh Festival, BBC Symphony Orchestra, London Sinfonietta and Birmingham Contemporary Music Group; and as an informal adviser, teacher and friend to several generations of musicians in the UK and further afield."
On hearing of the award Mr Knussen said: ​"I am most surprised and thrilled to be chosen to receive The Queen's Medal for Music and thus to join such a distinguished list of admired colleagues. It is an honour for me that this should happen during such a special year for Her Majesty The Queen, and I would also like to remember that Sir Peter Maxwell Davies, much-missed colleague and friend of more than forty years, was instrumental in the instigation of this marvellous symbol of professional recognition, which I am extremely happy – and humbled – to accept."
On 19 May, Oliver Knussen collected The Ivors Classical Music Award in a ceremony at the Grosvenor House, Park Lane in London. This Ivor Novello Award recognises an outstanding body of work in the classical genre, and is an opportunity for the classical community to acknowledge the excellence and diversity of the recipient's achievements as a composer. The Ivor Novello Awards are presented by the British Academy of Songwriters, Composers and Authors (BASCA) in association with PRS for Music. They celebrate, honour and reward excellence in British and Irish songwriting and composing.
Oliver Knussen can next be seen conducting at the Aldeburgh Festival, where he works with the BBC Symphony Orchestra (17June) and Britten Sinfonia (23June), and then back with the BBCSO for a performance at the BBC Proms on 4 August.
Jane Brown
Director, Artist Management
Marissa Pueschel
Artist Manager