Stephen Hough performs the complete Beethoven cycle with Tasmanian and Singapore symphony orchestras
14/8/2015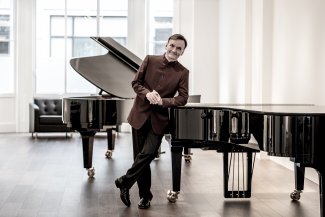 Stephen Hough performs all of Beethoven's Piano Concertos in Hobart with the Tasmanian Symphony Orchestra as part of the orchestra's celebration of the composer. The cycle begins on 21 August with Piano Concertos Nos.1 and 4, before continuing on 25 August with Concertos Nos.2 and 3. Hough then performs Beethoven's Piano Concerto No.5 in Hobart on 28 August and again in Launceston on 29 August.
Soon after, Hough repeats the same concerto cycle with the Singapore Symphony Orchestra at the Esplanade Concert Hall in Singapore. He performs Piano Concertos Nos.2 and 5 on 2 September, Nos.1 and 4 on 5 September, and completes the cycle with No.3 on 10 September.
Later this year, on 10 December, Hough performs Beethoven's Piano Concerto No.1 with the Hallé at the Bridgewater Hall in Manchester.