Critical acclaim for Lisa Batiashvili and The Philadelphia Orchestra's European tour
11/6/2015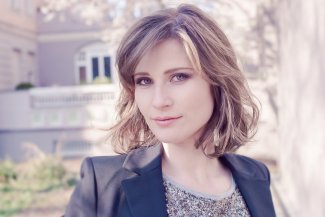 Lisa Batiashvili has received considerable praise from critics and audiences across Europe for her recent tour with The Philadelphia Orchestra and Yannick Nézet-Séguin, performing Shostakovich's Violin Concerto No.1.
The Kölner Stadt-Anzeiger stated ​"there is probably no one who can play this work better than the Georgian violinist did in the Cologne Philharmonie: as a magically eloquent song of the night, dark, but not depressing, and at any moment with the most deep and luminous tone, without ever getting sentimental."
From the concert at Vienna's Musikverein, Die Presse commented that ​"She turned the violin part into a silk thread which she spun with such care as though her life depended on it."
The last stop for the tour was London, where The Telegraph noted: ​"Lisa Batiashvili proved herself the true star of the evening", continuing ​"the performance [was] better than any I have ever heard of this work – indeed, a performance that must have left many wondering whether they had ever heard the violin quite so mesmerisingly played."
Lisa next performs on 21 June, with the Staatskapelle Berlin and Daniel Barenboim, for their annual open-air concert Staatsoper für alle. Each year, the concert attracts over 30,000 people to Berlin's Bebelplatz, and this is the third year in a row that Lisa has been invited as soloist. She will perform Tchaikovsky's Violin Concerto, having performed the work with the Orchestra and conductor earlier this season in Berlin and London.