Royal Liverpool Philharmonic Orchestra tour the Czech Republic
1/6/2015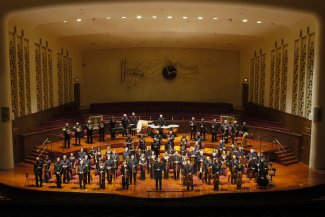 This week the Royal Liverpool Philharmonic Orchestra embark upon a three-concert tour in the Czech Republic.
Led by their Chief Conductor Vasily Petrenko, the orchestra perform the two closing concerts of the Prague Spring Festival in Smetana Hall on 2 and 3 June, before travelling to Ostrava to play at the Janáček May Festival on 4 June.
On 2 June, soprano Lisa Larsson joins the orchestra to perform a cycle of Berg songs newly orchestrated by British composer Chris Gordon and premiered in Liverpool last week. They include Seven Early Songs by Berg, as well as three further songs believed to complete a set dedicated to Alban Berg's wife in 1917.
The tour has been managed by HarrisonParrott and the repertoire for the concerts also features music from Janáček's From the House of the Dead, Elgar's Symphony No.1, Brahms' Piano Concerto No.1 with Paul Lewis as soloist, and Dvořák's Symphony No.7.