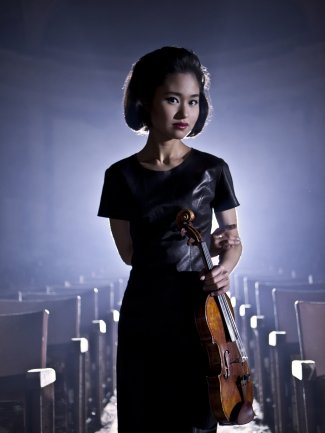 ©
Photo: Formento & Formento -YellowKorner
Sayaka Shoji embarks upon a ten-date recital tour of Japan
15/5/2015
This month Sayaka Shoji travels to Japan for a ten-date recital tour with pianist Gianluca Cascioli, performing works by Mozart, Beethoven, Stravinsky and Ravel.
The tour begins on 23 May with a recital at Yatsugatake Highland Lodge and concludes at Suntory Hall in Tokyo on 9 June. She also performs at the Saitama Arts Theater Concert Hall (24 May), Sendai Denryoku Hall (28 May), Kani Public Arts Center ala in Gifu (29 May), Yokosuka Arts Theatre (31 May), Nyuzen Cosmo Hall (2 June), Izumi Hall in Osaka (4 June), Nagoya Denki-Bunka Kaikan (5 June), and Philia Hall in Yokohama (6 June).
The recital tour coincides with the launch of Shoji and Cascioli's fourth and final instalment of the complete cycle of Beethoven's Violin Sonatas on Deutsche Grammophon, which the duo started recording in 2009. This latest disc features nos. 5, 6 and 10 and is released on 20 May in Japan.
Prior to the tour of Japan, Shoji makes her debut with the Orpheus Chamber Orchestra on 20 May, performing Vivaldi's The Four Seasonsat a gala concert at the Metropolitan Club, New York.