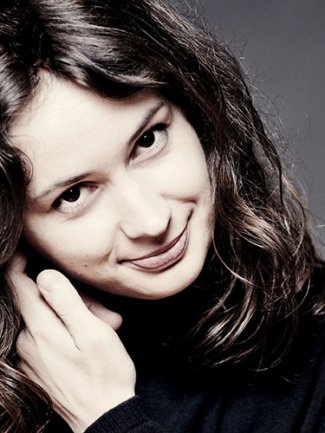 Patricia Kopatchinskaja appointed Saint Paul Chamber Orchestra Artistic Partner
30/1/2014
"I am thrilled and curious to make music with the great team of Saint Paul Chamber Orchestra and am looking forward to exploring new worlds and frontiers with these wonderful musicians."

Kopatchinskaja
The Saint Paul Chamber Orchestra has announced that violinist Patricia Kopatchinskaja will become an Artistic Partner from the 2014/15 season. She joins current Artistic Partners Roberto Abbado, Edo de Waart, Christian Zacharias and Thomas Zehetmair.
Speaking about the appointment, Orchestra President Bruce Coppock said, ​"One of the great joys of our work at the SPCO is to introduce Twin Cities audiences to sparkling and effervescent artists… who will shortly become household names and favorites of SPCO audiences." Kyu-Young Kim, the SPCO's Senior Director of Artistic Planning added: ​"In this age of great young violinists, Patricia Kopatchinskaja really stands out to me as one of the most electrifying artists to emerge in decades. Her music making has an intensity and power that just grabs you and doesn't let you go. Her affinity for the core repertoire, combined with her voracious appetite for contemporary music in wildly varied forms makes her a perfect artistic partner for the SPCO."
Widely regarded as one of the finest chamber orchestras in the world and renowned for its adventurous programming, the Saint Paul Chamber Orchestra is now in its 55th season. In collaboration with its Artistic Partners the orchestra presents more than 130 concerts and educational programmes each year, including national and international tours.
On her appointment as Artistic Partner Kopatchinskaja commented, ​"I am thrilled and curious to make music with the great team of Saint Paul Chamber Orchestra and am looking forward to exploring new worlds and frontiers with these wonderful musicians."
November 2014 will see their first major project together, which will interweave traditional folk music with classical works based on Eastern European influences.
Current season highlights for Kopatchinskaja include a recent major tour of Europe with the London Philharmonic Orchestra and Vladimir Jurowski, with concerts in Paris, Vienna, Stuttgart, Essen and Luxembourg. Her Naïve recording with Peter Eötvös of concertos by Bartók, Ligeti and Eötvös won the prestigious Gramophone Award as 2013 Record of the Year, and she will shortly work with Eötvös again, in a concert with the Symphonieorchester des Bayerischen Rundfunks in Munich.