Concertgebouworkest completes its tour to South America, as part of part of its

125

th anniversary world tour
24/4/2013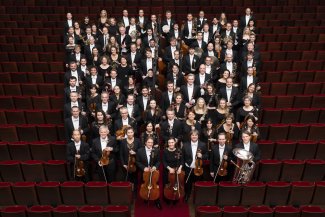 The Concertgebouworkest toured to South America in June, as part of its celebratory 125th Anniversary World Tour. Chief Conductor Mariss Jansons conducted concerts in São Paolo, Rio de Janeiro and Buenos Aires.
On 23 June, the orchestra gave an open-air performance in São Paulo to an audience of over 8,000. The programme featured works by Enescu, Prokofiev, Stravinsky, Villa – Lobos and Bizet.
The orchestra also toured with two other programmes: in São Paulo (24 June), Rio de Janeiro (26 June) and Buenos Aires (28 June), the repertoire performed was Wagenaar's Overture, The Taming of the Shrew, Rachmaninov's Rhapsody on a Theme of Paganini, with soloist Denis Matsuev, and Tchaikovsky's Symphony No.5. On 25 June in São Paulo and 29 June in Buenos Aires, the programme featured the Rachmaninov Rhapsody and Mahler's Symphony No.1.
The tour to the continent was a resounding success, despite the coincidence of widespread political protests in both São Paulo and Rio de Janeiro. The tour was met with great critical acclaim — Estadao​.comwriting: ​"The Dutch delivered a cosmic concert at the Sala São Paulo… The Russian pianist Denis Matsuev transformed the Rachmaninov Rhapsodyand was engulfed in applause at the end of his performance… Jansons seems to access an endless palette that contains subtle and elusive pianissimos and fortissimos. The musicians have developed a kind of sixth sense when dealing with the vagueness of acoustics and turned it into an impressive advantage. The infinitely subtle imbalance between the instruments gives the orchestra its colour and warmth."