Who we are and What we do
Who is HarrisonParrott?
HarrisonParrott is an international classical music artist management company founded in 1969. Our mission is to be ​"catalyst for bold endeavours at the highest level of artistic ambition", we support our employees to be entrepreneurial, courageous and visionary to empower both themselves and our roster of artists to reach new creative heights, with offices in London, Paris, Madrid, Munich, and with representation in Beijing.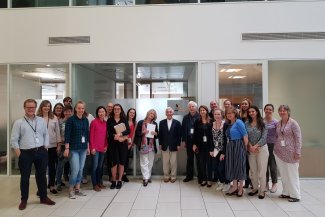 Artist Management
Artist management has always been the core of our business. We are proud to represent an exceptional list of performers – from emerging talent to the internationally renowned, from conductors and singers to pianists and cellists.
We are committed to helping them forge distinctive careers as concert and recording artists, tailoring our work to their individual needs and aspirations. Our relationships with promoters are characterised by trust, integrity and partnerships.
Not only do we represent classical musicians, but our sister company, Polyarts, represents artists and projects on the cutting edge of contemporary, film, gaming, visual arts, tech, and new classical music
What else do we do?
We have several other exciting departments at HarrisonParrott. We tour all over the world with our Creative Partnerships and Tours team, and a Dance division which provides a management service for dance industry professionals. We also have a publishing arm called Birdsong, which offers a bespoke publishing service tailored to composer's needs. Using our expert knowledge of the classical and arts industry we support creative organisations with our creative consultancy service.
The breadth of what we do at HarrisonParrott is the perfect environment to grow your knowledge of many creative industry areas.