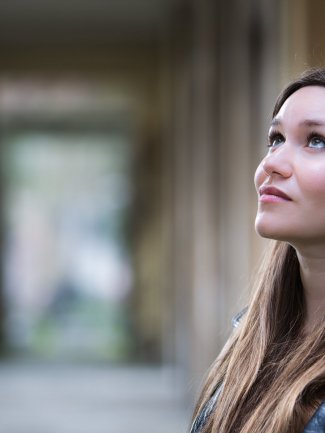 A conversation with… Freya Waley-Cohen
10/2/2023
When did you decide to focus on composing, and why?
In my memory, I decided I wanted to be a composer when I was about 14. I grew up playing the violin and piano and wanting desperately to be a violinist, but every time I was practicing I found myself spending most of the time making up my own music. My piano teacher would let me bring in little sketches for us to work on together each lesson. I recently bumped in to a teacher who was my form tutor from when I was 8 – 9. She remembered me wanting to be a composer when I was in her class. So perhaps my memory of myself at 14 isn't as clear as I thought.
What are some of your favourite classical works? Are there any which particularly inspire you?
It's hard to pick just a few to make this into a reasonably sized answer, but some things I've been inspired by recently include Bach's Chaconne, Pelle Gudmunsen Holmgren's Company, Chronochromie and Vignt Regards by Messaien, ​'Good Night' from An overgrown path by Janacek, Simon Bainbridge's Concertante in Moto perpetuo, Andy Akiho's Pillar 1, Caroline Shaw's Partita for 8 Singers and Gabriella Smith's Brandenburg Interstices. A few things that I come back to over and over again are Music for a Starry Night by George Crumb, Songs for Sue by Oliver Knussen, Schubert's Cello Quintet, Turangalila by Messaien, and the Andante from Bach's Violin Sonata No.2.
Which type of works do you enjoy writing the most? (For example solo, orchestral, opera, installation)
I like writing all of those types of works you've listed! Variety is the spice of life — so whichever I haven't done recently, I get excited to write.
Do you have any premieres coming up?
Yes! In fact tonight!! [10 February] The Amsterdam Sinfonietta with incredible recorder superstar Lucie Horsch are premiering my Variation on Sellinger's round at the Concertzaal in Tilburg, before continuing on tour to the Muziekgebouw in Amsterdam, Muziekcentrum Enschede, Musis in Arnhem, TivoliVrendenburg in Utrecht and the Stadsgehoorzaal in Leiden. They've been sounding fantastic in rehearsals this week so I can't wait!
Later this month the City of Birmingham Symphony Orchestra will be premiering my new orchestra work Demon under the baton of Ilan Volkov, a work co-commissioned by the Royal Stockholm Philharmonic Orchestra, where it will go next season.
And a third premiere coming up this spring is a flute trio for Sarah O'Flynn, Clare O'Connell and Roderick Chadwick, for a programme inspired by Messiaen and George Crumb which will premiere at the Royal Academy of Music before going to Imperial College London, Berkhamsted ​'Behind the Mirror' series, Goldsmith's College, Birmingham Conservatoire and The Three Choirs Festival.
What have been the highlights of your career so far?
One highlight was creating Permutations — a collaboration with two architects and my sister, violinist Tamsin Waley-Cohen. We set out to make an interactive synthesis of architecture and music and created an artwork that invites the listeners to explore a new work of music through playing the acoustics of six adjustable chambers. We made it though an open space residency at Snape Maltings, the music has been released by Signum on an EP of the same name, and it has so far toured to Snape Maltings, Dartington Festival, the Royal Academy of Music, and the Royal Institute for British Architecture North.
Writing my first opera last year was definitely another highlight. WITCH, a one act opera for chamber orchestra and 10 singers, was commissioned to celebrate the Royal Academy of Music's 200th anniversary. It was conducted by Ryan Wigglesworth, directed by Polly Graham, and the libretto is by Ruth Mariner.
What's one thing we might not know about you?
I draw scribbly demons and sometimes paint them in watercolours. Here are two of them!
Gallery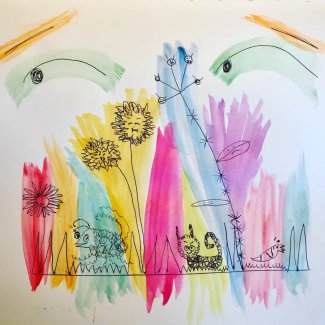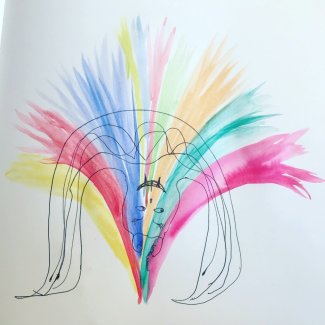 Megan O'Hanlon
Associate Publishing Manager