A conversation with… Jimmy López Bellido
16/1/2023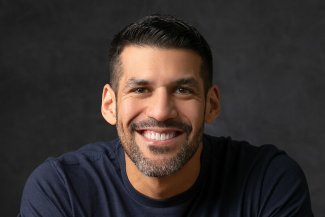 Why did you want to become a composer?
I discovered classical music when I was 11 years old. Or rather, I discovered Bach, because his two-part Invention No.13 struck me like lightning! I was never the same after that. Through him, I discovered the world of classical music, which elicited something in me akin to religious ecstasy. Nothing in the world was capable of stirring my emotions like classical music did, and I have strived to produce that same kind of response on my listeners ever since. I want them to experience joy, ecstasy, and catharsis while listening to my music, reaching all the way down to what makes us human. I just can't settle for less.
What's your starting point with a new composition?
It totally depends on the piece. If it's a song, the text must inspire me first and foremost. If it's dedicated to someone, then I will make sure that I talk to that person and write about something that is meaningful to them. When it's a commission, I always ask the commissioner about whether they are marking a special occasion or whether they want to celebrate something particular about their community. Sometimes the commissioner comes with concrete sources of inspiration, like — in the case of my 3rd symphony — a photographic collection. For my 2nd symphony I found inspiration in NASA and the space program (it was written for Houston, where the world-famous Johnson Space Center is located). Lastly, I also love writing purely abstract music, with no extramusical departure point: just motifs, melodies, or harmonic progressions. One thing that pervades through all my oeuvre is that I always plan the big picture first and only go into detail later. Plus, I never work chronologically, so I might start in the middle, continue with the end, and work on the beginning of the piece only at the very end of the creative process. I like to be free and detached from the constraints of chronological time; this allows me to create more tightly interweaved structures.
What are you currently working on?
A song cycle for tenor and piano based on texts by my friend and long-time collaborator Nilo Cruz. After that I'll be writing an orchestral overture celebrating the resilience of the gay community. I can't share more details for now, but both projects are very close to my heart.
Do you have any exciting performances coming up?
Yes! ​"Aino" a tone poem for orchestra, which I dedicated to Klaus Mäkelä, has just received its Dutch premiere by him and the Royal Concertgebouw Orchestra. This same piece will receive its North American premiere by the Chicago Symphony Orchestra in February. Klaus himself is conducting all performances. It is based on a story from the Kalevala, the national epic of Finland, a country that is very close to my heart, as I lived there for seven years.
What do you enjoy doing outside of composing?
Weightlifting! My day is not complete without an hour and a half workout at the gym. I love the process, not just the results. In fact, it's a lifestyle that requires discipline, as it influences every aspect of your life, from how you spend your free time, all the way down to what you eat.
I also love reading and I dedicate a few minutes to reading every single day. Also — and although I do it to a lesser extent — I cherish every chance I get to write. I've only lately ventured into writing my own texts (for my own songs), but I can foresee doing that more often in the future.
What's one thing we might not know about you?
I used to practice Greco Roman wrestling in my mid-20s! Also, I spent a whole week in a remote Indian village at the ashram of a Guru almost 20 years ago. Spirituality continues to be an essential part of my identity, but now I mostly channel all that through music.
Megan O'Hanlon
Associate Publishing Manager