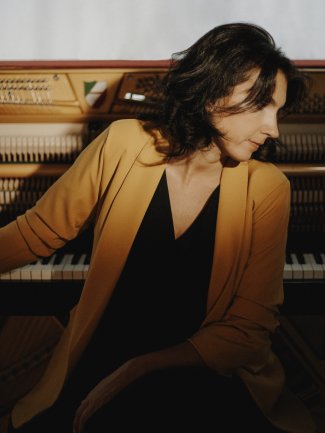 Olivia Belli signs to Birdsong
23/11/2022
We are thrilled to announce that composer and pianist Olivia Belli has signed to Birdsong Music for worldwide, exclusive publishing and management. Based in the Marche region of central Italy, Belli has reached a worldwide audience with her poetic compositions reaching millions of streams. Her music has featured on leading radio stations such as BBC Radio 3, Classic FM, BBC 6 Music, KEXP and Radio France.
A conservatory-trained pianist, having studied with pianists such as Lazar Berman and Jörg Demus, Belli initially toured Italy, Spain and the United States as a classical performer and released a series of acclaimed albums of music by leading contemporary composers, including Philip Glass and Max Richter.
As a composer, Belli mixes the intimate sound of a felt piano with synth vintage on her most recent album, Somnio Novo, which features original works that explore the nocturnal world and the concept of dreams. Throughout this collection of works. Belli returns to the material of her previous album Sol Novo, meaning ​"new sun, new day". Sol Novo was presented on radio shows such as Scala Radio, Soho Radio and the BBC, and was included in Apple Music's Classical Live. In 2018, Belli released her debut album of original works with Where Night Never Comes. Further developing her craft as a composer, Olivia released River Path through 1631 Recordings and Decca Records. The album quickly garnered support from media outlets and streaming services, leading to over 30 million streams in a few months.
In April 2021, Belli exclusively signed with Sony Music's new label, XXIM Records, featuring a new generation of artists whose work explores and integrates neo-classical, post-rock, electronic, and ambient sounds among others. The announcement came with the release of a new piano piece, Visions to Come.
Welcome to Birdsong Music, Olivia!
Milly Paine
Publishing Manager