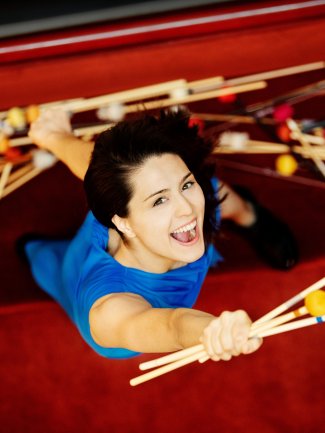 ©
Photo: Wiener Konzerthaus and Julia Wesley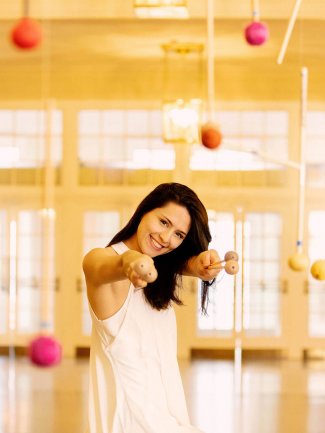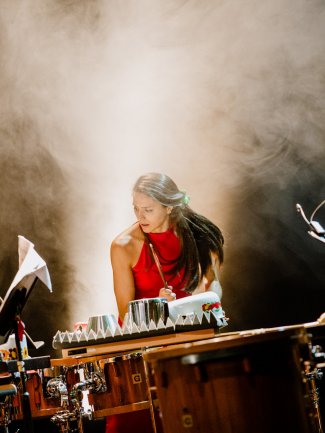 Vivi Vassileva
Percussion
Sabine Frank
Director & Managing Director (HP GmbH)
Martin Horbach
Assistant Artist Manager
Lara Knell
Assistant Artist Manager
Vivi Vassileva began her musical studies on the violin, but on hearing a group of folk artists on Karadere beach on the Black Sea coast she was immediately inspired to take up percussion. It was these colourful and exotic Balkan rhythms which moulded her into the multifaceted musician she has become and which continue to influence her classically-trained style.
The 2022/23 season sees Vivi Vassileva appear with orchestras such as National Polish Radio Symphony Orchestra Katowice in concerts at Elbphilharmonie Hamburg and Philharmonie Berlin, with the Residentie Orchestra in The Hague, the Bulgarian National Radio Symphony Orchestra, Beethovenorchester Bonn and Münchner Symphoniker. Chamber music projects take her to Philharmonie Cologne, Tonhalle Düsseldorf and Wiener Konzerthaus amongst others. Vassileva will also appear at important festivals, amongst them Heidelberger Frühling and Schleswig-Holstein Music Festival.
Selected for the Wiener Konzerthaus' Great Talent scheme in 2019 and as ​'Junge Wilde' at Dortmund Konzerthaus from 2021/22 for three seasons, Vivi Vassileva has laid the foundations for a major performing career as an artist who will take audiences with her as she explores and pushes the boundaries of the percussion world. Besides her brilliant technique, athleticism and astonishing virtuosity, she brings exceptional musicality and poetic expression to her performances.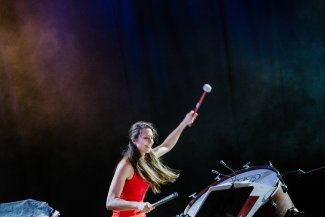 Vassileva is passionate about commissioning new works to expand the percussion repertoire, including works by Bushra El-Turk, Claas Krause and Gregor Mayrhofer. Her concerto repertoire includes works by Kalevi Aho, Oriol Cruixent, Tan Dun, Avner Dorman, Friedrich Cerha and Keiko Abe. Admired for her innovative programming style, Vassileva offers new ways for audiences to become acquainted with her instruments and her craft, be it in storytelling with renowned Austrian author Michael Köhlmeier, or pioneering environmental projects with percussion instruments made from recycled materials. She makes regular performances alongside recital partners including Kian Soltani, Frank Dupree, Pablo Barragán and guitarist Lucas Campara Diniz as well as her own percussion ensemble Extasi Ensemble at venues such as Berliner Philharmonie, Snape Maltings and Salzburg Festival.

In 2019, Vassileva signed an exclusive recording contract with Outhere Music France for their Alpha Classics label. Her debut album release Singin' Rhythm features works by Guillo Espel, Eric Sammut, Oriol Cruixent and Keiko Abe, most of them premiere recordings, alongside some rarely heard or premiere arrangements and compositions by Vassileva herself.

Vassileva began her formal training at the age of ten with Claudio Estay and later entered the National Youth Orchestra of Germany as the youngest member. More successes followed including prizes at international competitions and two special prizes as the youngest semi-finalist at the prestigious ARD Music Competition in 2014. At 16 she was accepted into the Hochschule für Musik und Theater in Munich, where she completed her Bachelor of Music under Raymond Curfs and Peter Sadlo. She is currently studying part-time at the Universität Mozarteum Salzburg under Martin Grubinger. She received the Kulturkreis Gasteig Musikpreis 2016 for her own composition and arrangement of the Bulgarian Folk Song Kalino Mome. In 2017 she was awarded the Bayerische Kunstförderpreis.
Sabine Frank
Director & Managing Director (HP GmbH)
Martin Horbach
Assistant Artist Manager
Lara Knell
Assistant Artist Manager