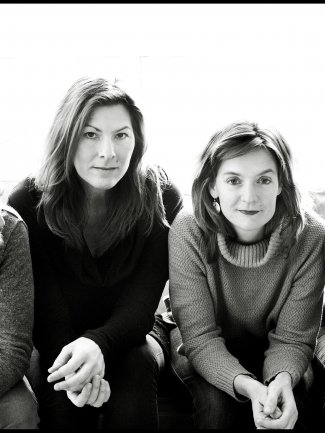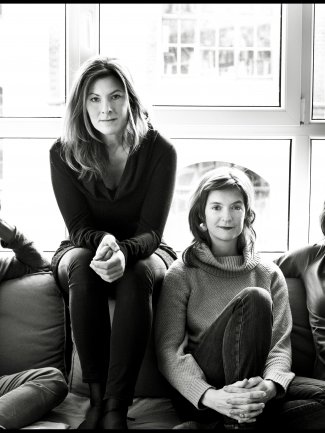 Tetzlaff Quartet
Ensemble
"Supremely lyrical, exactingly detailed playing combined with impeccable balance and unanimity, resulting in an overwhelming performance."

(The New York Times)
Praised by The New York Times for its ​"dramatic, energetic playing of clean intensity", the Tetzlaff Quartett is one of today's leading string quartets. Alongside their successful individual careers, Christian and Tanja Tetzlaff, Hanna Weinmeister and Elisabeth Kufferath have met several times each season since 1994, with their concerts garnering great critical acclaim.
During the 2020/21 season the Quartet is seen performing across Europe, including concerts in Oslo, Bergen, Paris, Evian as well as Hamburg and Berlin among others. The Ensemble also has a residency at the Schwetzinger SWR Festival.
Frequent guests at international festivals such as the Berliner Festwochen, Schleswig-Holstein Music Festival and Bremen Musikfest, other recent highlights include performances at Wigmore Hall, Konzerthaus Berlin, Kölner Philharmonie, Laeiszhalle Hamburg, Philharmonie de Paris and Auditorium du Louvre, Carnegie Hall, and cities like San Francisco, Vancouver, Tokyo, Osaka, Yokohama and Seoul. The Quartet has also performed at Brussels' BOZAR, Wiener Musikverein, Herkulessaal München, Amsterdam's Concertgebouw and Queen Elizabeth Hall.
The Quartet's latest album of two late string quartets by Beethoven was released in 2020 on the label Ondine. Previously, the recording from 2017 brings together music by Schubert and Haydn, a recording of Berg's Lyric Suite and Mendelssohn's String Quartet No.2 was released in November 2014 and was an Editor's Choice of Gramophone Magazine. Their first recording, unusually pairing Schoenberg's String Quartet No.1 with Sibelius' Voces intimae, was released by Cavi in 2010.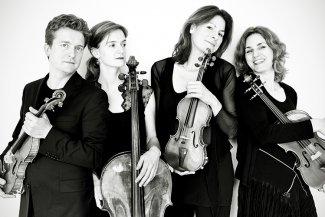 Christian Tetzlaff, violin

Described as ​"one of the most brilliant and inquisitive artists of the new generation" (The New York Times), Christian Tetzlaff is a regular guest with the world's leading orchestras and festivals. He enjoys collaborations with distinguished chamber musicians, including recital partners Leif Ove Andsnes and Lars Vogt. Awards for his numerous recordings include the Diapason D'Or, Edison, Midem Classical, Gramophone Classical Music, as well as several Grammy nominations. He plays a Peter Greiner violin.

Elisabeth Kufferath, violin

Elisabeth Kufferath is a regular guest at international music festivals including Lucerne, Schleswig-Holstein, Rheingau, Ravinia and Aspen. She has appeared as both soloist and chamber musician at venues such as Berlin and Kölner Philharmonie, Wiener Musikverein and Auditorium du Louvre. Her regular chamber music partners include Lars Vogt, Antje Weithaas, Isabelle Faust and Jens Peter Maintz. Elisabeth is currently Professor of Violin at the Music Conservatory in Hannover. She plays a Peter Greiner violin.

Hanna Weinmeister, viola

Hanna Weinmeister is laureate of numerous international competitions, including the International Mozart Competition in Salzburg, the Concours International Jacques Thibaud and the International Parkhouse Award in London. She is currently First Concertmaster at Opernhaus Zürich. She has worked with, among others, Heinrich Schiff, Leonidas Kavakos, Heinz Holliger, Gidon Kremer and Benjamin Schmid. She plays a Peter Greiner viola.

Tanja Tetzlaff, cello

Tanja Tetzlaff has appeared with many prestigious international orchestras and is especially dedicated to chamber music, regularly playing alongside Lars Vogt, Martin Fröst, Leif Ove Andsnes and Gunilla Süssmann. Tanja is a regular guest at international festivals such as Risør, Bergen, Schwetzingen, Heimbach, Berliner Festwochen, Beethoven-Fest Bonn and Bremer Musikfest. She plays a violoncello of Giovanni Baptista Guadagnini from 1776.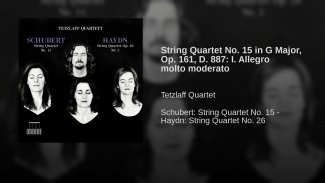 String Quartet No. 15 in G Major, Op. 161, D. 887: I. Allegro molto moderato
© Various Artists - Topic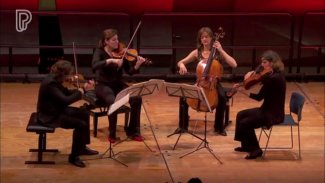 TETZLAFF QUARTET - Mozart String Quartet # 16 in E flat major
© ClassicPerformances2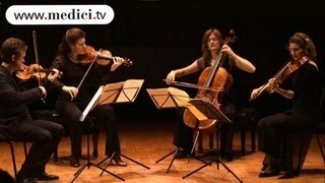 Tetzlaff Quartet - Beethoven - String quartet No. 15 in A minor - Movement III
© medici.tv
"In the fourth movement [of Sibelius' Voces Intimae Quartet], [Christian] Tetzlaff created a sound of startling sepulchral darkness, but in the scherzo the four players created a deliciously light dancing sound, a reminder that Sibelius could rival Mendelssohn in delicacy."
(The Telegraph, June 2018)
"The [Tetzlaff Quartet]'s euphonious sound lent warmth to the challenging contrasts of the opening movement [of Beethoven's A‑minor String Quartet], and the following piece in minuet form (…) was also given without overemphasis: homage to Mozart albeit at a distance."
(Classical Source, May 2018)
"The members of the quartet go as far as to say, ​"there is little left here that has to do with musical performance; it has more to do with screaming and whispering. The material — and the emotions too – are taken entirely to the limits."
(Primephonic, May 2017)
"Christian Tetzlaff and his colleagues offered the same sort of instrumental perfection that has characterised their earlier appearances in this venue, with unanimity of ensemble and tone, as well as musical thinking, lending immense satisfaction to all their performances."
(Dennis Rooney, The Strad, January 2014)
"Here, and in Mendelssohn's Quartet in A minor, the Tetzlaff alternated refinement and aggression in dramatic, energetic playing of clean intensity."
(Zachary Woolfe, The New York Times, April 2013)
"[It was] excellent, how the Tetzlaff Quartet combined the emotional with the structural layers of the piece. Astounding to what kind of blaze the music heightened after the inconspicuous beginning of the Fugato in the slow movement of the Mendelssohn."
(Thomas Schacher, Neue Zürcher Zeitung, March 2013)