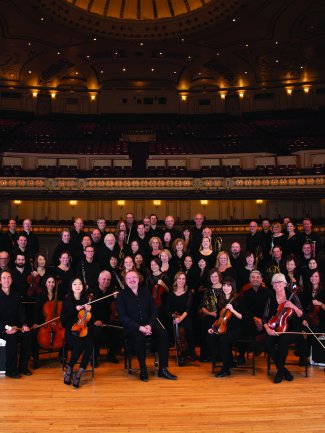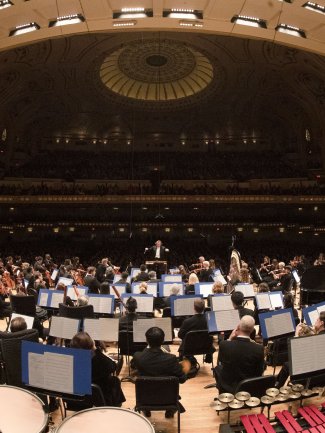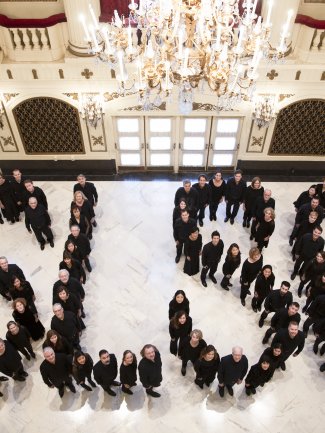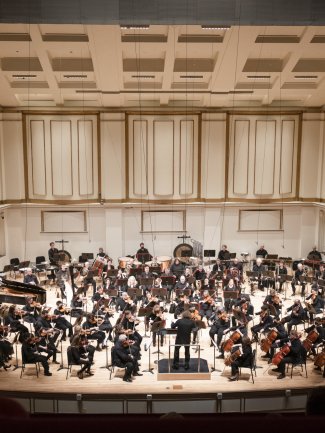 St Louis Symphony Orchestra
Rafi Gokay Wol
Director & Head of Arts Partnerships & Tours
Annebeth Webb
Senior Manager: Arts Partnerships & Tours
Celebrated as a leading American orchestra, the St. Louis Symphony Orchestra is the second-oldest orchestra in the country, marking its 142nd year with the 2021/2022 season and its third with Music Director Stéphane Denève. The SLSO serves the St. Louis region through its commitment to artistic excellence, educational impact, and community collaborations, honoring its mission of enriching lives through the power of music.
The core of the SLSO's artistic foundation is its dynamic partnership with Stéphane Denève. Denève's energetic musicianship, visionary storytelling, and collaborative spirit have created stronger connections with local and visiting artists, as well as advanced the SLSO's role as a leader in music education. The SLSO musical family also includes two resident choruses: the St. Louis Symphony Chorus, founded in 1976, performs choral-orchestral music from the Baroque era to today; and the St. Louis Symphony IN UNISON Chorus, founded in 1994, focuses on the music of African American and African traditions.
In addition to its concerts at historic Powell Hall, which has been the SLSO's home for more than 50 years, the orchestra is an integral part of the vibrant St. Louis community. Orchestra musicians share dozens of education and community performances throughout the region each year at medical facilities, places of worship, community centers, and schools. The St. Louis Symphony Youth Orchestra, founded by Conductor Laureate Leonard Slatkin in 1970, is the region's premiere training orchestra for high school and college students. The SLSO is proud to celebrate the 100th anniversary of its education programs in 2021.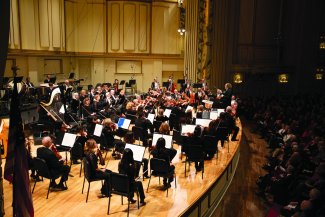 For more than 15 years, the St. Louis Symphony: Live at the Pulitzer series has highlighted composers and music of today through innovative performances in collaboration with the Pulitzer Arts Foundation. The SLSO has also served as the resident orchestra for Opera Theatre of Saint Louis for more than 40 years and enjoys a long history of robust and enduring artistic collaborations with individuals and organizations locally and around the world.

The Grammy Award-winning SLSO's impact is expanding with a growing digital presence that helps make music more accessible to all, realized through weekly Saturday night concert broadcasts on St. Louis Public Radio, acclaimed recordings, and regular tours domestically and abroad.

This expanding content portfolio includes digital concerts filmed at Powell Hall on the SLSO's high-definition camera equipment; virtual events for patrons, families, and educators; and a robust online education platform that features curriculum materials, interactive programs, activities, and learning opportunities for all ages.

Since the arrival of Marie-Hélène Bernard as President and CEO in 2015, the SLSO has aligned its mission to make music more accessible, while fostering a culture welcoming to all. Building on its momentum, the SLSO serves as a convener of individuals, creators, and ideas, and is committed to building community through compelling and inclusive musical experiences. As it continues its longstanding focus on equity, diversity, inclusion, and access, the SLSO embraces its strengths as a responsive, nimble organization, while investing in partnerships locally and elevating its presence globally.
Rafi Gokay Wol
Director & Head of Arts Partnerships & Tours
Annebeth Webb
Senior Manager: Arts Partnerships & Tours