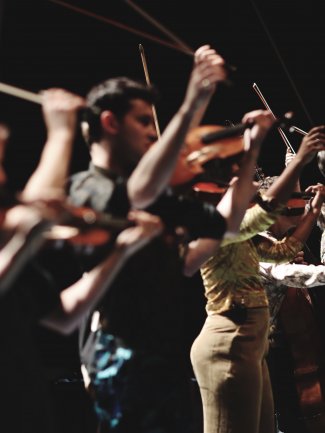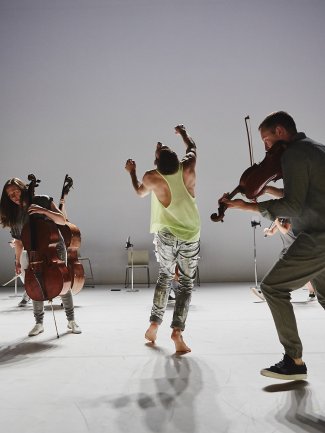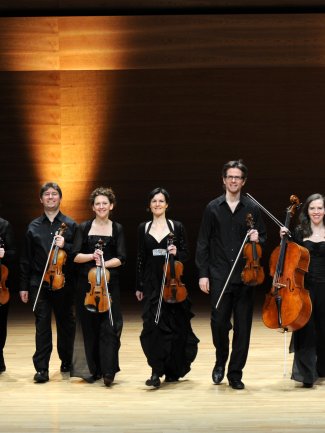 Rafi Gokay Wol
Director & Head of Arts Partnerships & Tours
Annebeth Webb
Senior Manager: Arts Partnerships & Tours
"A scintillation of ace soloists who combine bracing energy, flexibility and precision, breathing and moving as one."

(The Observer)
Scottish Ensemble is a pioneering string orchestra based in Glasgow and regularly performing across Scotland, the UK and the globe. A constellation of exceptional musicians led by Artistic Director Jonathan Morton, SE champions music for strings, promoting the rich diversity of the string repertoire, exploring adventurous ways through which it can be presented and shared, and seeking out thoughtful ways of connecting it to contemporary life.
Through its imaginative concert programmes, SE presents well-known pieces alongside new or more rarely performed works with the aim of introducing audiences to new works which may challenge, surprise or inspire them. Alongside an extensive recording catalogue, including releases on the EMI Classics, Linn and Moshi Moshi labels, SE is also committed to expanding the string repertoire, commissioning new works from distinctive voices. In recent years, this has included pieces by Sir John Tavener, Sir James MacMillan, Sally Beamish, Martin Suckling, John Woolrich, Craig Armstrong, Luke Bedford, Thea Musgrave, Anna Meredith and Gabriela Montero.
As well as celebrating all-things-strings, through all of its live events SE harnesses the power and possibility to be found in creative collaboration. Whether with classical soloists, musicians from other genres and traditions, artists from other art forms, or guests from outside the musical sphere, SE regularly collaborates with a wide variety of other creative minds and partners, devising imaginative, innovative live experiences which blur the boundaries between genres and forms, opening classical music up to new audiences.

Since 2014, when a cross-artform approach firmly became core to its identity, SE has created co-productions with visual artists Toby Paterson and Eleanor Meredith, Swedish contemporary dance company Andersson Dance and theatre company Vanishing Point.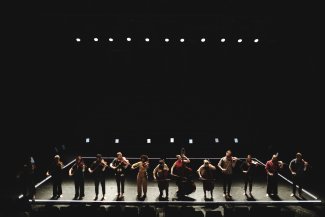 Collaborations with musicians from other genres include electronic-classical composer/​producer Anna Meredith, acclaimed fiddle-and-Scottish harp duo Chris Stout and Catriona McKay, fiddler-composer Aidan O'Rourke, keyboardist-composer Kit Downes, DJ and producer Alex Smoke and French-Iranian percussionists Keyvan and Bijan Chemirani.

SE's reputation has also lead to relationships with internationally-renowned classical soloists, including violinists Nicola Benedetti, Patricia Kopatchinskaja and Pekka Kuusisto, pianist Gabriela Montero, trumpeter Alison Balsom, percussionist Colin Currie, mezzo-sopranos Karen Cargill and Sarah Connolly, bassist Edgar Meyer, and many more.

Alongside performances across Scotland, SE's distinctive co-productions, as well as its performances of exceptional quality, are in-demand across the globe. In recent years SE has performed in prestigious – and varied – national and international venues including the Barbican Centre, Kings Place and Wigmore Hall, London, UK; İş Sanat Hall, Istanbul, Turkey; National Chiang Kai-Shek Cultural Center, Taipei, Taiwan; Shanghai Concert Hall and National Centre for the Performing Arts, Beijing, China; Walt Disney Hall, Los Angeles, New York Town Hall, and the John F. Kennedy Center for Performing Arts, Washington D.C., USA; and given many performances at venues and festivals throughout Europe.

Projects with collaborators from outside the musical sphere have included both experience-driven live events, and participatory community events, with recent partners and guests including cancer charity Maggie's Centres, neuroscientist Dr. Guido Orgs, and a forthcoming project with social entreprise Social Bite, who have a mission to end homelessness.

This ethos of connecting music with everyday experiences and societal challenges is extended through SE's year-round programme of creative learning and community activities – delivered through city-wide Residencies in some Scottish regions and targeted partnerships in others. SE shares music with as broad a range of people as possible, focusing on those who are unlikely or unable to experience live music.

Taking workshops and bespoke, locally-informed events across Scotland – delivered in partnership with local organisations including schools, hospitals, care homes, charities, museums, art hubs and more – SE creates new ways to share the positive benefits and sense of well-being that listening to and playing music can stimulate. Recent events have included Music and Mindfulness sessions with Maggie's Centres, a two-day composition-focused event for people new to Scotland hosted by Maryhill Integration Network, music-and-movement workshops with professional contemporary dancers, performances in hospital wards, projects with residents of Camphill Communities and more.

SE also offers vital practical experience and inspiration to the next generation of string players. An Ensemble Week and Young Artists Scheme, in collaboration with the Royal Conservatoire of Scotland, offer early opportunities to promising young strings students, whilst throughout the year SE works with primary and secondary schools on workshops that illuminate elements of the curriculum and introduce classical music through imaginative concepts.

In 2019 – 20, SE turned 50 – marking half a century since founders John Calder (publisher) and Leonard Friedman (violinist) established a dynamic string group to act as the house band for Ledlanet Nights – a multi-arts festival in Ledlanet House, Kinross-shire. Cross-artform adventures remain firmly at the core of SE's mission today.
"Tyranny and repression of freedom […] were the starting point for this latest programme from the Scottish Ensemble and pianist-composer Gabriela Montero. This was another typically individual piece of programming from the group that, in the last few years, has carved itself a niche exploring visual and theatrical ways to present its programmes."
(The Guardian, February 2019, Babel)
"Crowning the evening was a sensational performance of Shostakovich's Chamber Symphony, expanded from his tenth string quartet…I doubt I'll hear string playing as thoughtful, profound and sensationally warm again this year."
(The Times, February 2019)
There are so many delicious moments in this remarkable new collaboration from Scottish Ensemble and Andersson Dance, you leave feeling as if you have gorged on the very stuff of life. Chaos, calm, disharmony, beauty, fear, connection, isolation – it's all here, conveyed through music, movement or both.
(The Scotsman, November 2018, Prelude - skydiving from a dream)
"…creating a sonic vortex where strident-screeching discords suddenly morph into measured harmony isn't enough for the twelve members of the Scottish Ensemble: they come out from behind the usual barrier of music stands and join in the dance, often in complex phases of double work with each other or with one of the professional dancers."
(The Herald, November 2018, Prelude - skydiving from a dream)
"Scottish Ensemble's default setting is flux and dynamism. That's the mission of this string orchestra."
(The Guardian, February 2017 )
"Scottish Ensemble artistic director Jonathan Morton invested his Vivaldi solos with firiest of virtuoso spirit, and drew the same from the strings as a whole. We all came out invigorated and smiling, Vivaldi included."
(Scotsman on Anno, November 2016 )
"The Glasgow-based Scottish Ensemble, whose autumn tour diverted south to London's Wigmore Hall, calls itself the UK's only professional string orchestra. It might better describe itself as a scintillation of ace soloists who combine bracing energy, flexibility and precision, breathing and moving as one. Their control is phenomenal, their phrasing lean and sinewy. They can do warm and voluptuous too…"
(Fiona Maddocks, The Observer)
"Then it was party-piece time with the Scottish Ensemble in a sizzling performance of Ravel's String Quartet, as arranged for the group by the legendary Rudolf Barshai, with thumpingly incisive pizzicato sections, great warmth, electrifyingly edgy rhythms, superb characterisation in the finale and a confidence in the Scottish Ensemble's own delivery which seemed to transcend any acoustic limitations."
(The Herald)
"I cannot tell you how many performances of the Trout I have heard, nor how many recordings of this towering, life-affirming masterpiece I have possessed. But I can tell you this: I have not heard such supreme sophistication of ensemble playing lavished upon the work, which was light, tight, clean and ultra-refined in its delivery."
(The Herald)
"The Scottish Ensemble is an ideal fit for Balsom, accompanying her with equal drive and vitality. Their modern-instrument playing of baroque repertoire is increasingly distinctive; following director Jonathan Morton, they root out every aching dissonance, every tugging syncopation and every chance at dance-like buoyancy. The soloists in two Handel Concerto Grossos (Op 6 No 5 and 7) played vigorous musical one-upmanship, and the general exuberance was contagious."
(The Guardian)
Rafi Gokay Wol
Director & Head of Arts Partnerships & Tours
Annebeth Webb
Senior Manager: Arts Partnerships & Tours