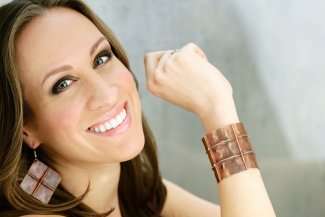 "Ms Rae brought plush radiance to Semele's confessional aria and brilliant, agile singing to the showpiece​'The Morning Lark'."

(New York Times, April 2019)
Accaimed for her ​"tireless, golden soprano" (The Times), and ​"dazzling, pinpoint coloratura" (Opera News), Brenda Rae is a regular guest at the world's leading opera houses in a portfolio of demanding principle roles.
Brenda Rae gives a string of high-profile debuts this season including as Adina (L'elisir d'amore) for her debut at Teatro Real Madrid in Daminao Michieletto's production, her first appearance at Salzburger Festspiele as Königin der Nacht (Die Zauberflöte), and her long-awaited debut at the Metropolitan Opera as Poppea (Agrippina) under Harry Bicket, broadcast live to cinemas around the world as part of The Met's Live in HD programme. Elsewhere this season, Brenda Rae reprises the title role in Laurent Pelly's production of Lucia di Lammermoor at Wiener Staatsoper under Evelino Pidò, and returns to Bayerische Staatsoper as Aminta in Barrie Kosky's production of Die schweigsame Frau. Future projects include her debut at the Royal Opera House, Covent Garden.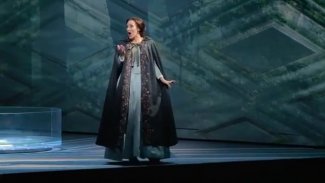 Quando rapito in estasi from Lucia di Lammermoor
© Santa Fe Opera
Show More

As a former member of the ensemble of Oper Frankfurt, Brenda Rae amassed an impressive repertoire including Violetta (La traviata), Lucia, Konstanze (Die Entführung aus dem Serail), Amina (La sonnambula), Giulietta (Les Contes d'Hoffmann), Zdenka (Arabella), and Gilda (Rigoletto) which she added in Hendrik Müller's new production. Zerbinetta (Ariadne auf Naxos) has become one of her most celebrated roles, leading to house debuts at the Staatsoper in Berlin and Hamburg as well as further performances at Bayerische Staatsoper. Elsewhere, Rae debuted at Opernhaus Zürich as Konstanze under Riccardo Minasi, English National Opera as Berg's Lulu in William Kentridge's production, Opéra national de Paris as Anne Trulove (The Rake's Progress), Seattle Opera as Semele, and the 2011 Glyndebourne Festival as Armida (Rinaldo), which was part of the BBC Proms and released on DVD by Opus Arte. Further roles include Elvira (I puritani) at Oper Frankfurt, and her first Amenaide (Tancredi) at Opera Philadelphia.

Brenda Rae made her US operatic stage debut at the 2013 Santa Fe Opera Festival as Violetta and has since returned as Norina (Don Pasquale), both Mme Vladimirescu and Mme Herz (The Impresario), Cunegonde (Candide) and Lucia. Brenda's continued collaboration with Bicket has brought her house debut at Lyric Opera of Chicago as Ginevra (Ariodante), and performances as Handel's Semele on tour with The English Concert to London, Paris and New York.

On the concert platform, Brenda Rae joined the orchestra of Teatro alla Scala on two occasions singing Mozart, most recently under Zubin Mehta, and in recital, is a regular guest of the celebrated Schubertiade in Schwarzenberg and Wigmore Hall in London.

Brenda Rae appears on several recordings including Wagner's Die Feen and Ariadne auf Naxos (both on Oehms Classics), Milhaud's The Oresteia of Aeschylus (Naxos; nominated for a Grammy award), Lowell Liebermann's Little Heaven (Albany Records) and Offenbach's Fantasio released by Opera Rara.
Gallery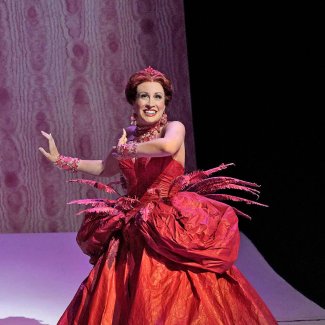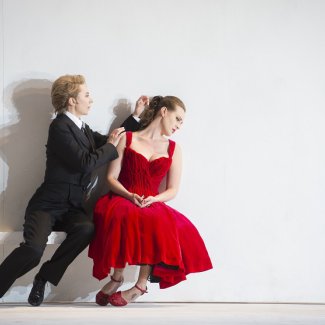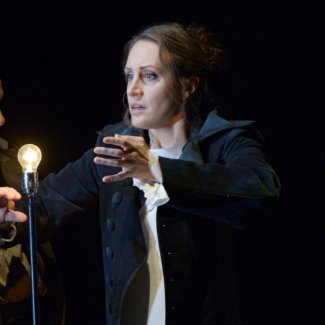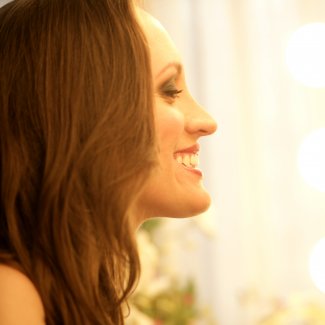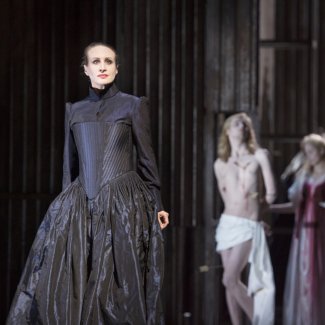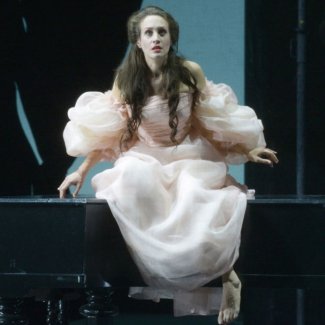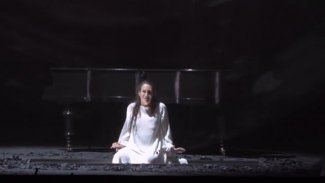 Bellini: I puritani
© Oper Frankfurt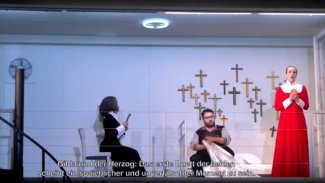 Verdi: Rigoletto
© Oper Frankfurt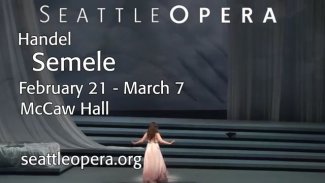 Handel: Semele - Myself I Shall Adore
© Seattle Opera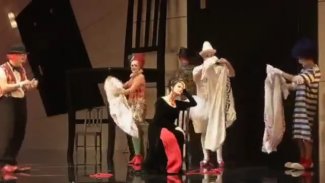 Strauss: Ariadne auf Naxos trailer
© Oper Frankfurt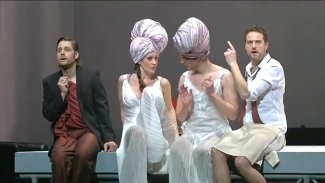 Handel: Giulio Cesare trailer
© Oper Frankfurt
"The brightly alluring Brenda Rae was alive to the varied emotions within Ginevra's music, from the giddy enchantment of ​'Vezzi, lusinghe, e brio' to the heart-stopping poignancy of ​'Il mio crudel martoro'."
(Opera Magazine, July 2019)
"She duly made ​'Myself I shall adore' a captivatingly glamorous showpiece, sprinkling it with just the right amount of diva self-parody."
(Opera Magazine, June 2019)
"Ms Rae brought plush radiance to the confessional aria and brilliant, agile singing to the showpiece ​'The Morning Lark'."
(New York Times, April 2019)
"In the role of Semele, Brenda Rae was exceptional!…displaying her magnificent technique, especially in the famous aria of Act III ​'Myself I shall adore'"
(ConcertoNet, April 2019)
"her timbre unfolds beautifully to reveal her virtuosity, masterful melismas, and a remarkable ability to emit the quietest of sound, almost with the mouth closed. Her clear tone creates beautiful piani in the a cappella sleep scene, before reaching its peak in ​'Myself I shall adore', where she demonstrates vocally brave coloratura passages sung in full voice."
(Olyrix, April 2019)
"The casting for this production could hardly have been better. In her Lyric Opera debut as Ginevra, Brenda Rae lit up the stage with her big, bright soprano voice, handling with ease both the high-flying vocal acrobatics and the dark emotions this role demands."
(Chicago Sun-Times, March 2019)
"First there is Brenda Rae as Elvira [I puritani]. With intense tone and crystal-clear, breakneck coloratura she credibly portrayed the inner turmoil of the young woman."
(Online Musik Magazin, December 2018)
"in her debut as Elvira in I puritani, Brenda Rae was beautiful in every way."
(Neue Musikzeitung, December 2018)
"Brenda Rae's Cunegonde was a showstopper…her voice cut like a knife once her range hit the stratosphere."
(Opera Magazine, November 2018)
"Brenda Rae thrills in Hendrik Müller's new production of Verdi's Rigoletto in Frankfurt…Shortly before leaving Frankfurt's opera ensemble, the soprano Brenda Rae once more proves to be perfect casting, not only as the girl with enchantingly effortless coloratura …but also as the determined young woman."
(Allgemeine Zeitung, February 2018)
"At the head of the cast is soprano Brenda Rae. She displayed fine musical sensitivities, fluent technique and dramatic flair in her depiction of the [Lucia]…She held the audience rapt in the palm of her bloody hand."
(Santa Fe New Mexican, July 2017)
"her mad scene makes this production…she both acts and sings this exceptionally difficult aria with a theatrical sense of insanity quite stunning in its depth of expression."
(Albuquerque Journal, July 2017)
"Equally exceptional is Brenda Rae, leading her Gilda from girlish chastity to glowing desire and the sobering perception that love can take a brutal toll. She savours the famous ​"Caro nome" aria with all its virtuosic subtleness in every sense…How versatile, touching and fascinating this wonderful voice is!"
(Frankfurter Neue Presse, March 2017)
"Brenda Rae as Gilda: contrasting the chaste and cool figure she plays, her soprano excels with variable nuances of warmth, a rich palette of piano colours and a meticulous negotiation of the coloratura passages."
(Frankfurter Rundschau, March 2017)
"Soprano Brenda Rae, a discover for many, became a constant source of vocal allure with the kind of dramatic instincts that turn a flashy cadenza into an intense character study."
(Philadelphia Inquirer, February 2017)
"A stellar performance by soprano Brenda Rae, in both her company and role debut as Amenaide, affirms her consummate mastery of Rossini's elaborate ornamentations and her engaging acting skills, as she constantly astonishes with pure mellifluous voice, flawless executive of extended passages of coloratura, and profound emotional commitment to the compelling role of an honourable woman who would sooner give up her own life than betray her true love."
(DC Metro Theater Arts, February 2017)
"Brenda Rae's Lulu, tirelessly busy and vocally spot-on, is the enigmatic centre of it all, very much the blank slate on which men can project their own fantasies, almost oblivious to her own allure."
(Andrew Clements, Guardian, November 2016)
"Brenda Rae in the title role is less of a rapacious flirt than conventionally played, but this is also her strength, enabling us to see the character as a flesh-and-blood woman; her singing of the part is a tour de force."
(Evening Standard, November 2016)
"English National Opera has assembled a superb cast, led by soprano Brenda Rae, making her ENO and role debut as the charismatic Lulu. Athletic and seductive, innocent and predatory, Rae captures the facets of the woman who exploits and is exploited by the men in her life."
(Express, November 2016)
"Excellent Brenda Rae makes a suitably capricious femme fatale"
(Express, November 2016)
"Brenda Rae makes a sensational house debut in the title role, one of the most challenging in the repertoire. The American soprano husbands her resources early on, mindful of the extremes that lie ahead; yet she never undersings and her characterisation is dynamite. Fearless, probing and compelling, radiant of voice and beauty, she is the complete Lulu."
(What's On Stage, November 2016)
"I doubt that Brenda Rae's Aminta could be bettered in any theatre today. Just as sure of note and line as the orchestra and with greater, contrasting warmth, especially at those wonderful revelations, through the disguise of Timidia, of the fundamental humanity of Aminta, this was a performance to savour."
(Opera Today, July 2015)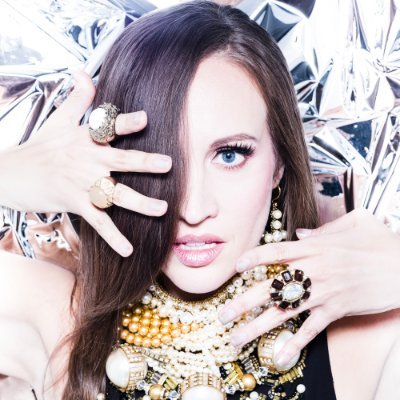 brenda rae
I've never received $ from this org but they are a giant in the American opera scene and I hope they do the right t…
https://t.co/aVfCNHj50e
20 Jul