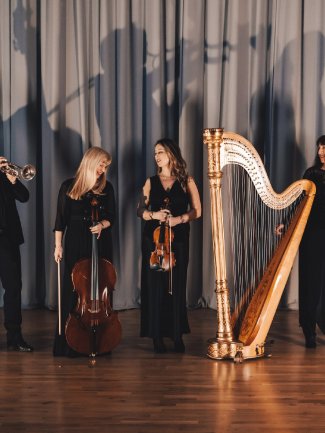 BBC

National Orchestra and Chorus of Wales
Rafi Gokay Wol
Director & Head of Arts Partnerships & Tours
For over 90 years, the BBC National Orchestra and Chorus of Wales has played an integral part in the cultural landscape of Wales, occupying a distinctive role as both a broadcast and national symphony orchestra.
Part of BBC Wales and supported by the Arts Council of Wales, it performs a busy schedule of live concerts throughout Wales, the UK, and the world. The orchestra is an ambassador of Welsh music, and champions contemporary composers and musicians.
In September 2020, Californian-born Ryan Bancroft stepped onto the podium in Cardiff to take up his position as Principal Conductor, heralding a new, dynamic, and exciting chapter for the orchestra.
The orchestra performs annually at the BBC Proms and biennially at the BBC Cardiff Singer of the World competition, and its concerts can be heard regularly across the BBC: on Radio 3, Radio Wales and Radio Cymru.

BBC NOW works closely with schools and music organisations throughout Wales and regularly undertakes workshops, side by side performances and young composer initiatives to inspire and encourage the next generation of performers, composers, and arts leaders.

During lockdowns due to Covid, BBC NOW continued to record and film behind closed doors at BBC Hoddinott Hall and produced videos, soundtracks and weekly digital concerts that have been seen by 14 million people globally including an extremely popular video of the Doctor Who soundtrack!

Future plans for the orchestra include live streamed concerts and events, tours to different communities throughout Wales, the UK and internationally and education and community development schemes to include everyone in music making.
Rafi Gokay Wol
Director & Head of Arts Partnerships & Tours