Pierre-Laurent Aimard: Beethoven and the avant-garde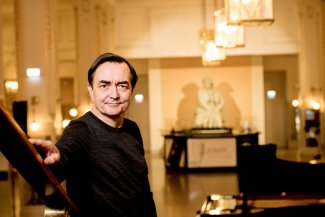 Celebrating Beethoven's 250 anniversary on the day of Beethoven's baptism and recorded for The Gilmore at the Teldex Studio in Berlin, pianist Pierre-Laurent Aimard performs a fascinating programme of works by Beethoven, Messiaen, and Stockhausen in this online concert. Aimard will also perform the world premiere of a piece by György Kurtág, which the composer gave to him in their most recent meeting.
The repertoire spans centuries to deftly connect four brilliant composers who pushed the limits of sound, composition, and the piano itself to challenge the musical conventions of their time.
Before the concert Pierre-Laurent provides a personal insight into his relationship with living composers. (approx. 10 minutes).
Full programme:
Messiaen: L'alouette lulu ("The Woodlark") from Catalogue d'oiseaux, No.6
Beethoven: Sonata in C‑sharp Minor, Sonata quasi una Fantasia, Op. 27, No.2 ("Moonlight")
Messiaen: La chouette hulotte ("The Tawny Owl") from Catalogue d'oiseaux, No.5
Beethoven: Sonata in F minor, Op.57 ("Appassionata")
Stockhausen: Klavierstück IX
György Kurtág: New work Le Chien (world premiere)
19:30 in GMT, CET, EST, PST
Prices: £10, €11, US$13, CA$13
Click on your region* to book your tickets:
UK
Europe
USA/​Canada EST and PST
Japan
*or region closest to you