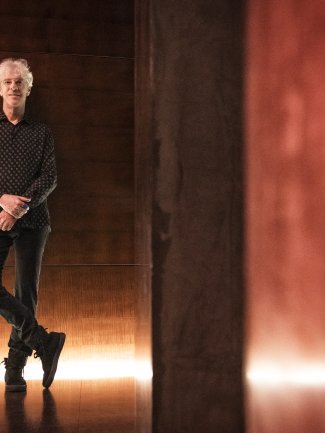 STEWART

COPELAND

SIGNS

TO

BIRDSONG
26/6/2023
We are thrilled to welcome Stewart Copeland to Birdsong for the publishing of his classical works. Copeland has spent more than three decades at the forefront of contemporary music as rock star and acclaimed film composer, as well as in the disparate worlds of opera, ballet, and world and chamber music. Recruiting Sting and Andy Summers in 1977, Copeland is renowned as the founder of The Police, a band that became a defining force in rock music from the ​'80s through to the present day.
Copeland moved beyond the rock arena in the mid-1980s when he returned to his classical roots with creative pursuits in concert and film music. His concert works include BEN-HUR, A Tale of the Christ, which features Copeland as soloist in a live orchestral score for the 1925 silent film; Tyrant's Crush: Concerto for Trapset and Orchestra commissioned by Pittsburgh Symphony Orchestra, Poltroons in Paradise commissioned by the Royal Liverpool Philharmonic Orchestra; and Gamelan D'Drum, commissioned by the Dallas Symphony Orchestra.
In 2017, The Chicago Opera Theatre premiered Copeland's surreal chamber opera The Invention of Morel, a co-commission with Long Beach Opera based on the novel by Adolfo Bioy Casares. Copeland has also written two operas based on stories by Edgar Allen Poe: The Cask of Amontillado and The Tell-Tale Heart, the latter of which was commissioned by London's ROH2 for their 2011 Opera Shots series. Other works include Holy Blood and Crescent Moon for the Cleveland Opera, and Horse Opera, commissioned by Channel Four.
Copeland continues to pursue his love for opera; 2020 saw the premiere of Electric Saint, commissioned by Weimar DNT, as well as his Oratorio, Satan's Fall, based on John Milton's Paradise Lost. Satan's Fall premiered in Pittsburgh in February 2020 and was performed across the US, with the UK and many more European performances still to come. In 2022, his rock opera The Witches Seed was premiered in Italy at the Tones on the Stones festival, in collaboration with Creative Partner Chrissie Hynde and with a libretto by regular collaborator Jonathan Moore.
Megan O'Hanlon
Associate Publishing Manager