©
Photo: Dominic Colchester
©
Photo: Dominic Colchester
A new quintet comprising some of Europe's finest ensemble players and dedicated to the study and period performance of Mozart's rarely performed string quintets.
Lorenza Borrani violin
Maia Cabeza violin
Simone Jandl viola
Max Mandel viola
Luise Buchberger cello
Five of Europe's leading string players come together to form Spunicunifait, a group dedicated to the study and performance of Mozart's six string quintets. In the desire to delve deeply into repertoire usually performed by a string quartet plus an extra viola, these five friends combine historical performance practice on period instruments with an obsession for Mozart.
Occasionally overwhelmed by his genius, they have named themselves after a word made up by Mozart (the meaning of which remains a mystery), to remember that this towering giant of classical music could also be a very, very silly man.
Spunicunifait brings together a vast collective experience as chamber musicians, orchestral players, teachers, directors and soloists from such ensembles as Chamber Orchestra of Europe, Orchestra of the Age of Enlightenment, Spira mirabilis and Aurora Orchestra, among others. Although they each lead full and varied musical lives, the members of Spunicunifait decided to prioritise this repertoire because they are eager to re-establish Mozart's string quintets' place among the highest achievements of the chamber music canon. No doubt they will explore the larger world of string quintets, but for now these pieces are serving as an endless source of inspiration for discussion, performance and enjoying each other's company.
Show More

This is rarely performed music by a dedicated group that may well be the first string quintet formed specifically to play Mozart's quintets on period instruments. Recent engagements include Schloss Elmau, Kissinger Sommer festival and Amici della Musica (complete cycle) in Florence, while upcoming concerts include Wigmore Hall and Salzburg Mozartwoche, among others. The programming can also be expanded to include the Mozart clarinet and horn quintets, featuring colleagues Lorenzo Coppola (clarinet) and Alec Frank Gemmill (horn).

"These works are special in so many ways. Mozart manages to reach the perfection of his string quartets, but with five voices … The alchemy of the instruments switching roles is unbelievably varied and constantly surprising. Through Mozart's imaginative genius, the six quintets inhabit six entirely different worlds, planets and dimensions." Lorenza Borrani, violin

"Most of all we hear his operatic language in this music from comedy to tragedy. Some say that these pieces even go beyond what he accomplished with his string quartets." Max Mandel, viola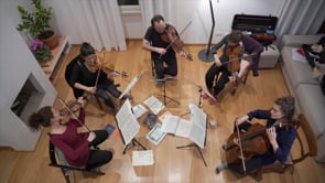 Spunicunifait: Introduction
© Zen Grisdale
Spunicunifait: The name
© Zen Grisdale