Meet Ashley Holland: Artist Manager
14/12/2022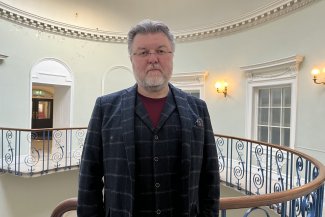 Ashley Holland is our new Artist Manager in the Vocal Department whilst Clare is on maternity leave. He tells us all about his previous life as a professional singer and and interesting encounter with Elizabeth Taylor…
Tell us about your music or arts background
I sang in choirs as a boy, but was an instrumentalist (cello and double bass) first and foremost. I was involved with amateur musicals when I was a teenager as well as playing in orchestras. It wasn't until I got to Warwick University that I singing really became something bigger, first in the Chamber choir under Simon Halsey, then having singing lessons. My housemate in my final year applied (without telling me) to Scottish Opera for an extra-chorus audition, because I was too scared to apply. I went to Glasgow in a black jumper and a pair of dress trousers from a Coventry charity shop and with virtually no opera repertoire, but got the job anyway (extra chorister in La Forza del Destino).
After that, I did a few more extra chorus jobs and was then in the full-time chorus at Scottish for a couple of years, before moving to Manchester for 2 years to study at the Royal Northern College of Music as a postgraduate student. I represented England in the 1995 Cardiff Singer of the World competition just a few weeks after having my tonsils out.
From college, I went to ENO as a company principal for several years before spending the rest of my singing career as a freelance artist. I was very lucky to sing some great operas in interesting places with brilliant artists, but sadly decided to give up a full-time singing career after a stomach operation 5 years ago.
Which of our artists will you be working with?
I will be looking after vocal artists including Alexandra Lowe, Mirjam Mesak, Allison Cook, Hanna Hipp, Lawrence Zazzo, Valentin Thill, Zwakele Tshabalala, Jonathan McGovern, Alex Otterburn, Xiaomeng Zhang and Blaise Malaba.
Fun fact about you?
I once spent a week living with Elizabeth Taylor. At the time I was doing my O levels (that shows how old I am…), my best mate was Frank Dunlop's nephew, when Frank was director of the Edinburgh Festival, so he invited Mark and a friend up to stay in his house for a couple of weeks. At the end of the first week, he announced that he had a friend coming to stay for a week and would we make her feel at home/​show her around etc. We came down the next morning to find Elizabeth Taylor sitting at the breakfast table and spent a week going around Edinburgh with her and seeing shows. She had no security, only a travelling companion, so we pretended that we were her CIA minders…
Your future aspirations?
I'm really looking forward to working for an exciting roster of artists and hope that the next year will be really successful for all of them and will be the start of an exciting new chapter for me.