HP

Futures Concert: Maya Youssef – Finding Home
1 November 2022 19:30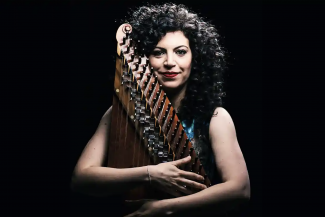 Maya Youssef, ​'Queen of the Qanun' plays music from her latest album Finding Home, with her 10-piece ensemble. The qanun (a 78-stringed plucked instrument from the Middle East) is at the heart of Maya's evocative soundworld, which is infused with a sense of loss for her Syrian homeland and inspired by a more universal sense of home.
Performers
Maya Youssef and the Finding Home Ensemble

Dates and Time:
Tue 01 Nov, 19:30pm
Tickets: £30/£25/£20/£15/£10

Book Here
HP Futures is a concert series in collaboration with St Martin-in-the-Fields, showcasing outstanding artists to audiences at the iconic London venue.