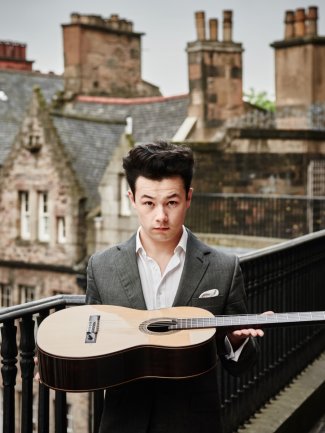 HP

Futures Concert: Baroque meets Minimalism — Sean Shibe plays Bach and Steve Reich
1 April 2022 19:30
Bach meets Steve Reich and Scottish lute songs encounter the New York underground in this latest musical exploration from guitarist (and phenomenon) Sean Shibe.
"It's easier to imagine the end of the world than to imagine the end of exploring Bach" says guitarist Sean Shibe, but the truth is that for this visionary young British guitarist all music opens up new worlds – and everything he plays is just the starting point of a new exploration. Counterpoint is the theme here, as the timeless patterns of Bach converse with the rediscovered musical heritage of Shibe's native Scotland and the countercultural sounds of Oliver Leith. And when Shibe plays all the parts in Steve Reich's Electric Counterpoint, a contemporary classic becomes something utterly distinctive and entirely new.
Programme
Anonymous: Music from Scottish Lute Manuscripts
Bach: Suite in E Minor, BWV 996
Messiaen: O Sacrum Convivium
Oliver Leith: Pushing my Thumb through a Plate
Steve Reich: Electric Counterpoint
Performer
Sean Shibe Guitar
Dates and Time:
Friday 1 April, 19:30pm
Tickets: £30/£25/£20/£15/£10

Book Here
HP Futures is a concert series in collaboration with St Martin-in-the-Fields, showcasing outstanding artists to audiences at the iconic London venue.