Virtual Circle Concert: Ksenija Sidorova — Between Dreams

&

Reality
5/10/2021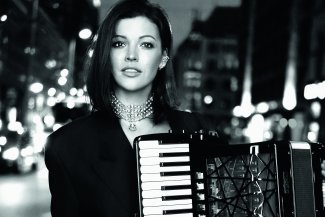 Praised as ​"revelatory" (New York Times) with ​"breathtaking virtuosity" (The Observer), Ksenija Sidorova is one of the most prominent accordion virtuosos in the world, and her wisely formulated and carefully arranged programs have allowed us to see the accordion, usually considered a folk music instrument, in a completely new light.

Ksenija Sidorova invites you to enjoy her new programme – a deeply human and almost intimate conversation, where the flaming rhythms of seguidilla and fiery tango twists have been swapped for luscious pastels.

The programme ​'Between Dreams and Reality' stemming from reflections and contemplations from the past year, offers a rather wide variety of authors and presents both Italian accordionist and composer Pietro Roffi and modern songsmith Sergey Akhunov, born in Kiev, whose musical expression is rather close to New Yorker minimalist vocabulary. The programme also presents original compositions by two brilliant virtuosos – Head of the Bayan Department at Donetsk State Musical Academy and composer Artem Nizhnik and the Paganini of Russian balalaika, Alexey Arkhipovsky. A fragment of Philip Glass' Glassworks as well as several arrangements of piano miniatures by Spanish composers will be performed on the accordion. The reflections will also feature prominent Argentinian Astor Piazzolla's themes from Ksenija's newest album Piazzolla Reflections, which was recorded during the pandemic in Madrid and dedicated to the centenary of Piazzolla's birth, as well as music by genius Johann Sebastian Bach, so rarely heard in Ksenija Sidorova's interpretation.

Ksenija has chosen the Sinfonietta Rīga String Quartet to share the stage with: Kristiāna Krūskopa, Agnese Kanniņa, Artūrs Gailis un Kārlis Klotiņš, as well as double bass player Jānis Stafeckis.

Programme:
Philip Glass: Glassworks: 1. Opening
J. S. Bach: Adagio in d minor BWV974
Pietro Roffi: Nocturne
Pietro Roffi: Is There a Place in Your Heart
Sergey Akhunov: Sketches 1, 3
Sergey Akhunov: Two Keys to one J. Brodsky's Poem
Isaac Albeniz: Asturias
Manuel De Falla: Serenata Andaluza
Franck Angelis: Fantasie on A. Piazzolla's theme ​'Chiquilin de Bachin'
Artyom Nyuzhnyuk: Sirin
Alexey Arkhipovsky: Cinderella

Tickets: £10
Date: Saturday 30 October
Times: This event is lived streamed from Latvia 19:00 EEST, 18:00 CEST, 17:00 BST with other time zones available.
Book here

About Ksenija:

Ksenija Sidorova works with leading orchestras including NDR Elbphilharmonie Orchester, Orchestre Philharmonique du Luxembourg, MDR Sinfonieorchester [Leipzig], Stuttgarter Philharmoniker, Kammerorchester des Bayerischen Rudfunks, Atlanta Symphony, Tonhalle Orchester-Zurich, NHK Symphony Orchestra, Tokyo and Hong Kong Philharmonic Orchestra, and prestigious conductors including Paavo Järvi, Thomas Hengelbrock, Vasily Petrenko, Kristjan Järvi, Michał Nesterowicz and Jan Willem de Vriend. She often appears at Ravinia, Cheltenham, Mostly Mozart, Schleswig-Holstein, Gstaad Menuhin, Verbier and Rheingau music festivals.

In May 2012 she became the first International Award winner of the Bryn Terfel Foundation, and in October 2015 she appeared at the Royal Albert Hall as part of his 50th birthday celebrations alongside Sting. She is a recipient of both the Philharmonia Orchestra's Martin Musical Scholarship and Friends of the Philharmonia Award, as well as the Worshipful Company of Musicians Silver Medal. Since 2016, Ksenija has been an Associate of the Royal Academy of Music.

Ksenija recently released her newest album Piazzolla Reflections (Alpha Classics, 2021). This follows her previous successful releases: Classical Accordion (Champs Hill Records, 2011); Fairy Tales (Champs Hill Records, 2013) recorded with BBC National Orchestra of Wales/​Clark Rundel; and Carmen (Deutsche Grammophon, 2016) — a new take on the score — recorded with the Nuevo Mundo band and the Borusan Istanbul Philharmonic Orchestra/​Sascha Goetzel. For the latter, Ksenija won the ECHO Prize for Instrumentalist of the Year in 2017.