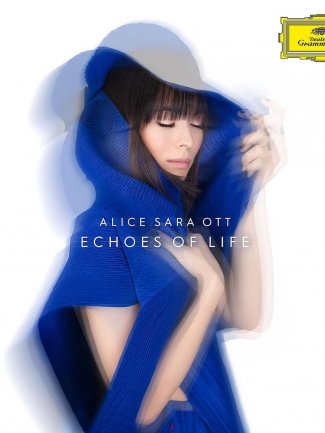 ©
Photo: Deutsche Grammophon
ALICE

SARA

OTT

–

ECHOES

OF

LIFE
11/8/2021
Pianist Alice Sara Ott​'s latest project, Echoes Of Life, is her personal musical reflection on the fragments, moments and memories that make up a life. The programme is built around Frédéric Chopin's Preludes op.28, interspersed with seven works by György Ligeti, Nino Rota, Chilly Gonzales, Tōru Takemitsu, Arvo Pärt, a newly-commissioned work by Francesco Tristano and Alice Sara Ott's own reflections on fragments of W. A. Mozart's Lacrimosa. It is Ott's tenth album on Deutsche Grammophon, following on from seminal albums such as Nightfall, Wonderland and The Chopin Project.
"Echoes Of Life is a musical journey that not only reflects on the thoughts and moments that continue to influence my life, but also portrays how I see myself as a classical musician today. With his Préludes op.28, Frédéric Chopin composed a collection of 24 individual character pieces — very different from each other and yet all connected in some way. They remind me of life. I have chosen seven contemporary works to intersperse the Préludes and, while they echo some of my most personal and vulnerable experiences, they also affirm how modern, provocative and timeless Chopin's music is." – Alice Sara Ott
The album is now available for order, streaming and download now and is also in the new special high-quality spatial listening experience of Dolby Atmos.