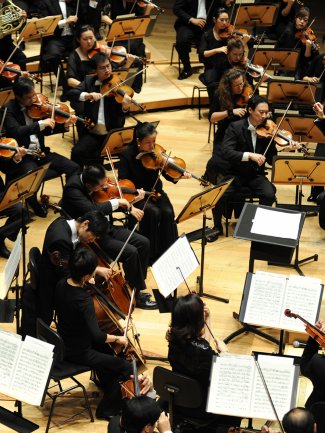 ©
Photo: Singapore Symphony Orchestra
Singapore Symphony Orchestra
"A world-class ensemble that plays its heart out at every concert and where each individual musician is a hand-picked virtuoso."

(American Record Guide)
Gaining recognition around the world, the Singapore Symphony Orchestra performs over 50 symphonic programmes a year. Its versatile repertoire spans from standard repertoire to cutting-edge premieres. In support of Singaporean talent, local musicians and composers feature prominently in the concert season.

Since its inception in 1979, the SSO has toured extensively to America, China and Europe. Its six-city tour of London and Germany in 2010, which included a sold-out performance at the Berlin Philharmonie, garnered rave reviews, including from The Times and Sueddeutsche Zeitung. Since Lan Shui assumed the position of Music Director in 1997, he has raised the Orchestra's profile and level of excellence. In September 2014, he led the Orchestra in their debut at the BBC Proms.

From July 2020, Lan Shui has become the orchestra's Conductor Laureate and Hans Graf assumed the title of Chief Conductor.

The Singapore Symphony Orchestra has released a number of recordings on the BIS label which have earned international acclaim, including the first-ever complete cycle of Tcherepnin's symphonies and piano concertos. The SSO has also recorded the music of Chen Yi, Zhou Long, Bright Sheng and Richard Yardumian, collaborating with artists including Evelyn Glennie, Cho-Liang Lin, Gil Shaham, Noriko Ogawa, Christian Lindberg and Martin Fröst.
"The playing here is excellent… With Sudbin asserting his interpretative personality here, the orchestra and conductor are inspired to match a thrilling performance that stands alongside the greatest."
(Geoffrey Norris, The Telegraph)
"Listen to [Yevgeny Sudbin's] persuasive way with the Piano Concert No 1, featured on BIS's latest Rachmaninov disc with the excellent Singapore Symphony Orchestra and conductor Lan Shui… The orchestra comes into its own in another early Rachmaninov work, the Symphony No.1, dazzling in its force and promise, projected here with gorgeous colours and the sort of beseeching woodwind playing that can make a listener go weak at the knees."
(Geoff Brown, The Times)
"The Singapore Symphony accompanies perfectly, adding considerably to the colour and atmosphere of the work."
(BBC Music Magazine)
"Lan Shui and his Singaporean players play their hearts out, and bring an apt autumnal glow to the lovely second movement in BIS's ideal acoustic."
(Gramophone)
"A top-flight, richly enjoyable performance."
(The Telegraph)