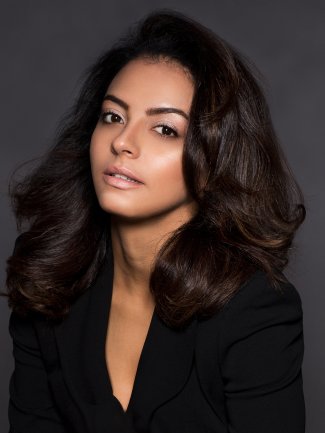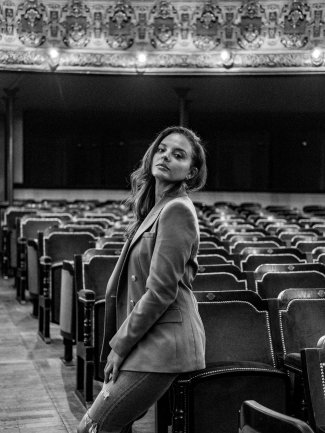 Rihab Chaieb
Mezzo-soprano
"Her smoky, beguiling mezzo was poised and pliant, and she cut an exotic, authoritative figure"

(Opera Today)
Tunisian-Canadian mezzo-soprano Rihab Chaieb has drawn international recognition for her clear, sensuous vocal tone and her dramatic flair. With a versatile instrument that allows her to shine in repertoire from Monteverdi, Handel and Mozart through Bizet, Verdi and Glass, the Canadian mezzo is a prominent new talent on the world's major stages.
In the 2022/23 season, Chaieb makes both notable debuts and anticipated returns: she brings her acclaimed interpretation of Carmen to both the Canadian Opera Company and Calgary Opera and makes her LA Opera debut as Cherubino in James Gray's new production of Le nozze di Figaro, conducted by James Conlon. At Grand Théâtre de Genève she appears as La mère Meryem in the world-premiere of Christian Jost's Voyage vers l'espoir and makes her Bayerische Staatsoper debut as Fenena in Verdi's Nabucco, conducted by Daniele Rustioni.
A regular performer on the concert platform, this season Rihab Chaieb joins Philharmonia Baroque Orchestra and Richard Egarr in Handel's Messiah, the Vancouver Symphony Orchestra and Otto Tausk for Berlioz's Les nuits d'été, and with the Manitoba Chamber Orchestra, she performs her first Ruggiero in Handel's Alcina. In recital, she performs alongside pianist Brian Zeger at the Kennedy Center, presented by Vocal Arts DC and joins pianist Valeria Polunina for a first performance in Tallinn, Estonia.
The 2021/22 season included Rihab Chaieb's debut at Washington National Opera as Dorabella in Così fan tutte, her first Penelope for a European concert tour and recording of Il ritorno d'Ulisse in patria with Ensemble I Gemelli, a return to Opéra National de Montpellier as Maddalena in Marie-Eve Signeyrole's new staging of Rigoletto, a debut at Palm Beach Opera in the title role of Carmen, and a return to The Metropolitan Opera as Nefertiti in Phelim McDermott's revelatory production of Philip Glass' Akhnaten, conducted by Karen Kamensek.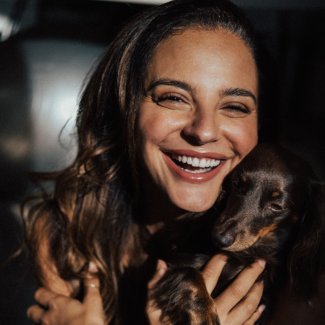 In recent seasons, Chaieb's versatility has led to her debut as Charlotte in Werther at Opera Vlaanderen under Giedrė Šlekytė, at Houston Grand Opera in the world premiere of Tarik O'Regan's The Phoenix, as Rosina in Il barbiere di Siviglia at Cincinnati Opera and as Offenbach's Fantasio at Opéra de Montpellier. For Dutch National Opera, Chaieb sang Lola in Robert Carsen's new staging of Cavalleria Rusticana under Lorenzo Viotti, Dorabella at Teatro Santiago de Chile, Kasturbai in Philip Glass' Satyagraha at Opera Ballet Vlaanderen, and received unanimous acclaim for her first Carmen in Lydia Steier's intense new production for Oper Köln.

On the concert stage, Rihab Chaieb has performed with Orchestre symphonique de Montréal under Johannes Debus in Mahler's Lieder eines fahrenden Gesellen and in a programme of Rossini under Kent Nagano; with the Toronto Symphony Orchestra in Handel's Messiah and under Music Director Gustavo Gimeno in Beethoven's Symphony No.9; with both Vancouver Symphony Orchestra under Otto Tausk and Bournemouth Symphony Orchestra under Carlos Miguel Prieto in de Falla's Three-Cornered Hat; and at the Toronto Summer Music Festival in her first Das Lied von der Erde which she recently reprised at the Rockport Music Festival. She recorded both Bach's Mass in B minor and Beethoven's Symphony No.9 for two audio-visual recordings with Orchestre Métropolitain under Music Director Yannick Nézet-Séguin, the latter released on Deutsche Grammophon's online platform DG Stage. This past season she reprised Beethoven's Symphony No.9 with Nézet-Séguin and The Philadelphia Orchestra at Carnegie Hall.

Rihab Chaieb is a former member of the The Metropolitan Opera's Lindemann Young Artist Program, where she has appeared in numerous productions, including L'italiana in Algeri (Zulma), Luisa Miller (Laura), Cavalleria Rusticana (Lola) and Hänsel und Gretel (Sandmännchen) and has returned since as a guest in Don Giovanni (Zerlina) under Cornelius Meister. Also a former member of the Canadian Opera Company's Ensemble Studio, she earned major acclaim as Sesto (La clemenza di Tito) and San Francisco Opera's Merola Opera Program, where she debuted as Cherubino (Le nozze di Figaro), Chaieb has also enjoyed several summers at the Glyndebourne Festival as Mércedès (Carmen) under Jakub Hrůša, and Flora (La traviata) under Andrés Orozco-Estrada.

The recipient of many major grants, Chaieb is also a seasoned competitor, taking Third Prize at the 2018 Operalia Competition, winning the 2016 Gerda Lissner International Vocal Competition, and taking prizes at both the Metropolitan Opera National Council Auditions and the 2018 George London Foundation Competition.
Gallery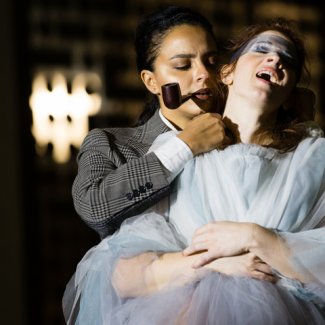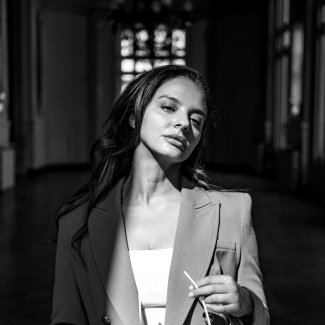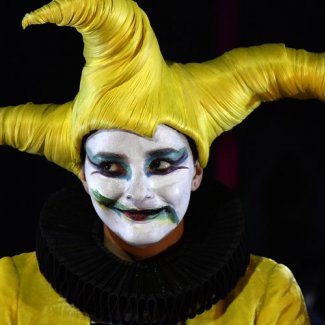 "Chaieb is stunning in the leading role, with a razor sharp presence that really suits the larger-than-life persona that Carmen has taken on in both the story, and in popular culture. She sings through the repertoire beautifully, but puts equally as much into her acting and delivery as she does her vocal performance to really sell the elusive, strong aspects of the character."
Broadway World Toronto, November 2022
"Carmen is a fine showcase for Chaieb's talent as both a musician and an actor. Her beautiful and lyrical voice, combined with the haughtiness and charm required of one of opera's most iconic roles, endeared her to the […] audience."
Toronto Guardian, November 2022
"Canadian mezzo-soprano Rihab Chaieb showed off a different side of her artistry at Ottawa Chamberfest, delighting audiences with more subtle, sensitive vocal qualities of shading and luminosity."
Opera Canada, August 2022
"Versatile, rising mezzo-soprano Rihab Chaieb, creating the widest imaginable spectrum of emotion in strong, rich tones.. Musically, and expressively these performances were well-nigh flawless and highly communicative."
The Boston Musical Intelligencer, August 2022
"At the opening night at the Kennedy Center's Eisenhower theatre, top honours in the cast went to Rihab Chaieb as Dorabella. Everything about the mezzo registered deeply — sumptuous tone, seamless technique, great comic timing."
Opera Magazine, June 2022
"Mezzo-soprano Rihab Chaieb is now one of my favorite Dorabellas, her eyes as expressive as her voice, and her timing just as pitch-perfect."
(The Washington Post, March 2022)
"Mezzo-soprano Rihab Chaieb offers a vivacious and splendid sultry heat in her portrayal of Dorabella."
(DC Metro, March 2022)
"The role of Carmen was played by two of the most brilliant mezzo-sopranos in the musical firmament. The alluring Tunisian-born Canadian soprano Rihab Chaieb, who starred the night I attended, delivered a playful but charismatic reading, endowed with a cunning sense of self-awareness, which in other performances too often gets lost in the intensity of the drama. We love villains, and when they include us in their psyche, we are indulged in whatever fix they are plotting. Ever the sly temptress, Chaieb resisted the modish temptation to fashion her character into a strident feminist avatar who prizes her liberté over the havoc she has wreaked. However tragic the consequences, her coquettish mien wins us over."
(The New Criterion, February 2022)
"Rihab Chaieb slips easily into the role of [Penelope], the grieving wife of Ulysses: with huge expression in the initial lament, and impressive control in the famous amorous duet"
(Bachtrack, Oct 2021)
"The voice is warm, with an additional sweetness in keeping with her role as the seductress, which she embodies very well"
(Opéra Magazine, November 2021)
"Rihab Chaieb is an elegant Maddalena, with a pleasant and vigorous mezzo-soprano"
(Diapason, September 2021)
"Chaieb was a winning Rosina, soaring with flexibility through high-flying coloratura and bringing wit to her characterisation, always with lyrical beauty."
(Cincinnati Business Courier, July 2021)
"The magnetic presence and opulent voice of Rihab Chaieb. The Canadian-Tunisian mezzo shows great class and generosity in her singing, and imbued Charlotte with nuance and colour."
(Opéra-Online, May 2021)
"Rihab Chaieb sings Charlotte with her beautiful warm mezzo, full lower range and consistent musicality. She clearly shows the evolution of the character, from innocent young girl to troubled young woman"
(Avant-Scène Opéra, May 2021)
"Act 3 belongs to Charlotte and requires a tour de force of singing and acting, which Chaieb delivered. Her warm, amber mezzo lent an unaccustomed seductive quality to her Charlotte and credibility to Werther's attraction. The evenness of the voice and the smoothness of its production did not stand in the way of her complete immersion in the torrent of emotions…The role could well become her calling card."
(Bachtrack, May 2021)
"As soon as she enters, Chaieb's Charlotte demands attention: endowed with an attractive physique and a delicate amber tone that isn't lacking in sensuality, she has the exact range needed for the role, a rich middle register, power at the top and opulence in the depths."
(Forum Opéra, May 2021)
"Rihab Chaieb [was] a warm, sensuous Lola"
(Opera Magazine, December 2019)
"Rihab Chaieb brought a strong personality and attractive mezzo to Dorabella."
(Opera Magazine, December 2019)
"Lola, a vocally seductive Rihab Chaieb."
(Bachtrack, September 2019)
"As Malibran, a coltish Mozart and Da Ponte's long-suffering wife Nancy, the mezzo-soprano Rihab Chaieb made a solid company debut with her luxurious singing of two gorgeous arias"
(Opera Magazine, July 2019)
"especially mezzo-soprano Rihab Chaieb, who earned the evening's biggest ovation for Cherubino…Her physical agility was equalled by a lovely, rich sound that easily projected"
(City Beat Cincinnati, June 2019)
"Rihab Chaieb was an endearing Cherubino, singing both her arias with impeccable Mozartian finesse."
(Seen & Heard, June 2019)
"Chaieb brought her glowing tones to three roles: famed singer Maria Malibran, then Mozart and Nancy da Ponte in the opera-within-an-opera. The mischievous energy of Chaieb's Mozart complemented the warmth of her portrayal of wife and mother Nancy…Chaieb's rich-voiced resoluteness made that another of The Phoenix's most powerful moments."
(Texas Classical Review, April 2019)
"Young mezzo Rihab Chaieb, in her HGO debut, is a delightful surprise in her triple role as Nancy, 19th-century superstar Maria Malibran and fiery Mozart. Nancy's ​"Lullaby" to her children felled by disease is achingly poignant. Chaieb supplies vibrant life and emotional connection to her characters"
(Houston Press, April 2019)
"Rihab Chaieb had presence from her first entrance as Fantasio, displaying her distinctive natural timbre, good flexibility and poised top notes."
(Forum Opéra, January 2019)
"Rihab Chaieb succeeded with flying colours as Fantasio. Her aria ​'Voyes dans le nuit brune' was particularly enchanting and demonstrated her clean lines, impressive diction and exceptional lower range. In short, a truly special voice!"
(Opéra-Online, January 2019)
"Rihab Chaieb triumphs in the title role of Fantasio, demonstrating her round, wide-ranging voice."
(Concertonet, January 2019)
"Rihab Chaieb sounded fresh and youthful as the village girl Laura."
(Zachary Woolfe, New York Times, April 2018)
"Rihab Chaieb impressed as Lola, standing out from the crowd"
(Bachtrack, January 2018)
"Rihab Chaieb's shimmery-voiced Lola"
(Financial Times, January 2018)
"Rihab Chaieb was superb as Alfio's dallying young bride Lola, showing an alluring smoke in her voice."
(New York Classical Review, January 2018)
"the mezzo-soprano Rihab Chaieb threw herself heroically into the [role of the Prince] – a character reminiscent of Bluebeard"
(Opera Magazine, December 2017)
"Rihab Chaieb's high-maintenance Flora was a sensuous vocal presence"
(Yehuda Shapiro, Opera Magazine, October 2017)
"As her lover, mezzo Rihab Chaieb, working a pipe and an enigmatic sneer/​smile, sounded properly seductive."
(Opera News, October 2017)
"Rihab Chaieb has a rapturous voice, full of lush colours."
(Schmopera, October 2017)
"In the trouser role of the Fairy Prince, Rihab Chaieb matched her co-star strength for strength. Her smoky, beguiling mezzo was poised and pliant, and she cut an exotic, authoritative figure as the swaggering royal. Ms Chiaeb is a first rate musician who ably met the considerable musical demands set out for her, including an easy sensuality in her caressing manner with any number of loving, arched phrases."
(Opera Today, September 2017)
"and [the] androgynous Fair Prince, Rihab Chaieb, a charismatic mezzo-soprano"
(New York Times, Anthony Tommasini, September 2017)
"Rihab Chaieb was the prince, slipping on a throaty and agile mezzo."
(Philadelphia Inquirer, September 2017)
"Of the smaller roles, Flora (Rihab Chaieb) [was] especially well sung and dramatically convincing, too"
(Opera Magazine, July 2017)
"Rihab Chaieb's warm Flora"
(Bachtrack, May 2017)
"The vibrant Canadian-Tunisian mezzo Rihab Chaieb, as Elvira's slave, Zulma"
(New York Times, October 2016)
"Mezzo Rihab Chaieb made a solid first Met appearance as Elvira's friend Zulma"
(New York Classical Review, October 2016)
"Rihab Chaieb made a fine Met debut as Elvira's friend, Zulma."
(Opera Critic, October 2016)
"Rihab Chaieb gives Tebaldo a smiling freshness."
(ConcertoNet.com, September 2015)
"the sparkling Tebaldo of Rihab Chaieb"
(L'Avant-Scène Opéra, September 2015)
"Rihab Chaieb [stands] out as Mercédès"
(John Allison, Telegraph, May 2015)